Can Oliver Queen every live a regular life?
This is the question Starling City's hero will be asking himself when we kick off Arrow Season 3 on Wednesday, October 8.
And he won't like the answer he's forced to accept.
The CW has released the official synopsis for this fall's new batch of episodes, initially teasing that Oliver will "bask in the success" of his Arrow Season 2 victory, setting his romantic sights on Felicity in the process.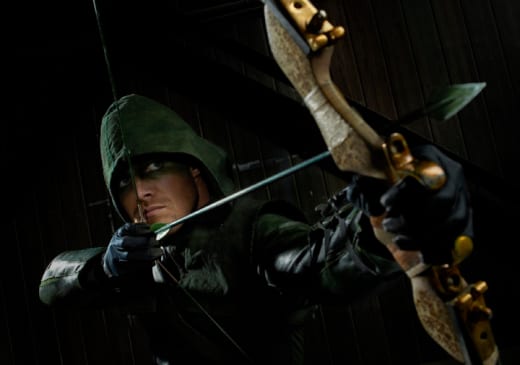 But Oliver's dreams of living like a normal human being will quickly be dashed... by whom?
Check out the network description and try to decide now:
In the aftermath of this victory, Season Three opens with Arrow now a hero to the citizens of Starling. Crime is down, people feel safer, and Captain Lance even calls off the Anti-Vigilante Task Force. Basking in his success, Oliver believes he can finally have a private life and asks Felicity out on a date. But the second Oliver takes his eye off the ball, a deadly villain reappears in Starling, forcing Oliver to realize that he can never be Oliver Queen – not as long as the city needs The Arrow.
Need to catch up? You can watch Arrow online now!
Matt Richenthal is the Editor in Chief of TV Fanatic. Follow him on Twitter and on Google+.