Oliver Queen is smiling.
Are we in an alternate universe at the start of Arrow Season 3? Not exactly.
Oliver simply has a lot to be happy about when we kick things off tonight. He and his team are fighting crime effectively and he and Felicity Smoak are making goofy eyes at each other - and, yes, are going to go on a date.
But, this being Arrow, do you really expect things to keep going smoothly? First, Ollie is broke; and while he's confident he can regain control of his company, enter one Ray Palmer (Brandon Routh), who has his own agenda for Queen Consolidated.
Oliver's sister, Thea, is also missing in action and, let's face it, how good can things be for her in the hands of her father, Malcolm Merlyn?
After a sneak peek at Arrow Season 3 Episode 1 , I was among the press given the change to grill Executive Producer Marc Guggenheim on the start of the new season. What can fans expect going forward? Consider yourself SPOILER WARNED and let's find out...
Olicity: As we've known for awhile, Oliver and Felicity go on a date on the premiere. However, as the producer said, "their relationship is going to take ups and downs and twists and turns."
He also teased that we haven't heard those three magic words for the last time and that the two share a very emotional scene Arrow Season 3 Episode 2: "I think part of the fun or agony of watching these two people is they're together, they're apart, they're together, they're apart. We'll see what the future holds for them."
Who Am I?: After everything he's gone through and where he is now, it's no wonder Oliver - and a few others - have a bit of an identity crisis in the new season.  Explaiend Guggenheim: "One of the things I'm excited about this season, and the theme of identity, is it affects everybody."
Look for Lance to struggle to find his place without being a cop while Oliver has an issue with, well, himself. "Oliver decides 'I can't be Oliver Queen,'" the producer teased. "This is the challenge or the struggle that he'll be dealing with over the entire season."
More Mystery: Guggenheim said he and his fellow writers wanted to get back to mystery in the show and Arrow season 3 was a good time to do just that.
"We sort of had that in season 1 with the glyph and the Undertaking," he said, "The nature of season 2 took us away from that because we had Slade Wilson and it was a much more upfront story about vengeance. With season 3, we wanted to re-introduce some of those elements of mystery, so you go, 'Oh, what's going on there? What's up?'"
Part of that mystery may come in the form of Ray Palmer.
A Bantering Pair: Speaking of Palmer, Guggenheim said one of the motivations for shaping the character for the small screen was none other than Ms. Smoak.
"One thing that we haven't seen is someone that can play at Felicity's level in terms of the banter," Guggenheim said. "Felicity, we always say, we write her as if she came in from a different show. But the problem is, she doesn't have anyone else to talk to like that. You can't write West Wing-y banter with Felicity and anyone, because Banter requires two people. Well, lo and behold, here's Ray Palmer."
After seeing the premiere, I can tell you that Routh does a great job showing some spot-on comic timing and, yes, holding his own against the fast-talking Felicity. Could there be a romantic spark? Guggenheim did tease there is an air of mystery surrounding Palmer and his intentions with getting Queen Consolidated in his possession.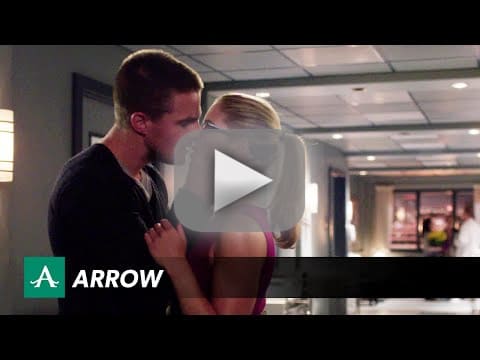 Roy's Turn: Guggenheim admitted that in terms or Roy's part of the Arrow team, "we dropped the ball a a little bit in that in [episode] 212 we made a big deal about Roy joining the team and then didn't get a chance to do that much with it because we were pushing a lot of other story."
That's about to change, he promised. In the new season, "you really feel like Roy is a part of Team Arrow," Guggenheim said. "And it's more than just wearing a costume, that he's really present and really a member of this group, that the trio becomes a quartet." Watch for episode 306 to be very "Roy-centric" and will harken back to Arrow Season 2 Episode 12.
Oliver and Laurel: For those of you wanting more romance between the two, it doesn't seem to be a driving force at the start of the season... but you never know. In fact, Guggenheim said the following:
"It's Oliver and Laurel, and every now and again, we do have these scenes between the two of them where you really feel the history between them: they were best friends and they were lovers and they were in love with each other. And now they're sort of post-relationship. But there's that history there that's always going to follow them, that's always going to bond them."
The Flash Crossover: "It's so friggin' awesome!" exclaimed Guggenheim when asked about the upcoming episode where Arrow and The Flash crossover. "I have never had so much fun writing a script before, maybe in my life." Guggenheim said that part of the fun is just having the characters do things they normally wouldn't be able to do.
"We're blowing out the doors on this," he said. "and it's the opportunity for, like, just inside jokes. Seeing all of the characters together like what happens when Cisco gets his eyes on Thea? Stuff like that. Moments you just can't do in a normal episode. It's just so much fun."
He also said watching Stephen Amell and The Flash's Grant Gustin work together is "magic."
Arrow Season 3 airs Wednesdays at 9/8c on The CW. 
Jim Halterman is the West Coast Editor of TV Fanatic and the owner of JimHalterman.com. Follow him on Twitter.