Arrow Season 3 Episode 1 Review: The Calm

Carissa Pavlica at . Updated at .
Nobody wants to be proven right when the circumstances are tragic.
Seriously. It's not fun seeing predictions you've made in the past play out on screen, but in Arrow Season 3 Episode 1 something that seemed inevitable happened.
Sara, The Canary, is dead.
The thing is, that was the smallest slice of the premiere. That means next week we can expect for our hearts to be ripped out, squished and stomped on. Just get your Kleenex ready.
In the Arrow Season 3 premiere, we had before us an Oliver who was forgiven by the city that he fought valiantly to save. He was an Oliver who was seriously weighing a future where he could be both man and hero. He didn't need Diggle to point out to him that the tactic he used to stop Slade in Arrow Season 2 Episode 23 wasn't a ruse; he knew he was in love with Felicity even then.
Felicity has never been a woman to open up fully. A broken heart doesn't appeal to her any more than it does to Oliver. But this Oliver was different. He even accepted a fern to brighten up his new home, the Arrow Lair. 
Oliver: Would you like to go out to dinner with me?
Felicity: I'm being serious here, Oliver.
Oliver: So am I.
Felicity: I don't want to read too much into this, but are you asking me out on a date, like an actual date, like a date, date?
Oliver: Sure, I mean, usually the implication being with dinner...
Felicity: Usually I'm the one talking in sentence fragments.
Oliver: Would you like to go to dinner with me?
Felicity: Yes.
Viewers have waited so long for that! But we're also a pragmatic bunch, even in the face of optimism. Getting what we want is rarely granted so easily. 
The new Count Vertigo, self appointed, added a little something extra into the latest batch. Somehow it forces you to face your greatest fear. It's difficult to imagine how that would make a street drug more desirable, but I've never understood drugs or drug lords.
It pissed off Vertigo that The Arrow continues to live while the bad guys die around him, so he poked the bear. Oliver was off his game worrying about the date with Felicity and missed the earlier bad guy place a tracker on his Arrow suit (which was in the restaurant with them...why?).
So Vertigo tracked Arrow to the restaurant. Whoops. Rockets went off on Oliver's date with Felicity, but not in a good way. It was enough to shake Oliver's foundation. Who wasn't shaken up when they saw Felicity covered in blood?
Thus, when The Arrow was later injected with Vertigo, he saw himself. 
Felicity: You don't really think you're afraid of yourself, do you?
Oliver: I think I'm afraid of what will happen if I let myself become Oliver Queen.
Suddenly, Oliver didn't want Diggle in the field. He will be a father soon. Fighting Oliver's battles in the face of a new family and bringing a new life into the world no longer makes sense to Oliver. Felicity didn't need to be told what was happening to Oliver, because as she listened to her two best friends argue, her face crumbled. She was so close.
What was most interesting about the rest of what happened between Olicity was that she called the shots. Felicity told him if they talked it would be over. He mistook that as fear on her part, that she didn't want him to end things. But she meant if he pulled the plug again, even for a minute, she wasn't going to go forward. She wasn't kidding.
What I love about this development the most is putting Felicity in the driver's seat. With the introduction of Ray Palmer, the charismatic, handsome, wealthy nerd who is buying Queen Consolidated and making him a perfect partner for Felicity, we can surmise she'll be The Arrow's girl by night, and Palmer's girl by day. Felicity will probably take up her old position at the side of Palmer and try to move forward without loving Oliver.
It's highly doubtful that will play well in the long run, but it's the kick in the pants Oliver needs to realize that he wants and can have both a life as a man and a hero. Maybe he'll learn a thing or two from Barry Allen instead of teaching him his own tricks. He called Barry inspirational in The Flash Season 1 Episode 1. It's time for Oliver to be inspired.
So don't give up hope, Olicity fans, and don't discount what a good break in the action can do for a man like Oliver. He gives his best when he's at his worst. He'll discover he's more of the latter as a man without Felicity. Eventually.
Now tell the truth. You wanted to hate Ray Palmer, right? It was impossible. Brandon Routh was perfectly cast. There was just a bit of Superman sparkling inside him, that cute self deprecating humor he exhibited, while simultaneously patting himself on the back. He and Felicity will be able to banter on a level she's not experienced with her cohorts. No matter what side you're on, this will be fun!
We have a new Team Arrow. Oliver at the helm, flanked by Felicity, Laurel, Arsenal and Diggle. As Laurel said,
You catch 'em, I cook 'em. Oh! Did I say that too loud?

Laurel
It works. Roy with his spiffy new outfit (doesn't a red mask look different?) is a full member of the team now, but he's still so fresh. Did you catch the look on his face when freezing the bomb worked? His eyes were wide with delight.
It's upsetting that they saved the death of Sara that many of us predicted would be in the Arrow Season 2 finale only to lose her in the premiere, but it functions much like the death of Shay on Chicago Fire. There won't be one person not deeply touched by her death. Even the League of Assassins might be out for vengeance, losing one of their own.
Who was the man who shot her? He used a voice synthesizer as Oliver does to be The Arrow. Sara clearly knew him and was a bit perturbed to see him. It's ironic that Oliver was giving Barry the speech about heroism at the same time Sara was losing her life, don't you think?
I do not expect Laurel to make any attempts to pick up the mantle (did you catch Vertigo talking about that very thing?) any time soon, but now I wonder if that's why Sara was never the BLACK Canary. She was always Canary. I could see a moment in the future when Laurel assumes a similar role, mourning the death of her sister by adding black to her moniker. 
And, finally, Sara's death puts even more distance between Oliver and Felicity (for now) because Sara was in that spot because she helped him, The Arrow. That will have to be an impact reverberating throughout the season. But they'll get through it.
The season started with strong characters with new relationships, a fully formed team. While the intricacies and romantic entanglements may change, that won't alter the strength of their union. Arrow pulled it off again with an exciting and buzzworthy premiere. It truly was the calm before the storm.
If you've missed any of the series thus far, where the hell have you been? It's time to watch Arrow online via TV Fanatic. If you've been here. Weep, my friends. Commiserate in the comments.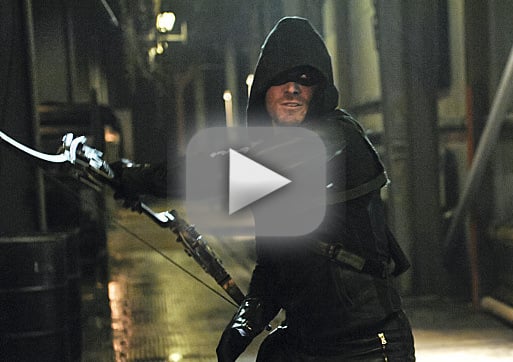 Next week will be killer. Get your first look at Arrow Season 3 Episode 2 right now.
Carissa Pavlica is the managing editor and a staff writer and critic for TV Fanatic. She's a member of the Critic's Choice Association, enjoys mentoring writers, conversing with cats, and passionately discussing the nuances of television and film with anyone who will listen. Follow her on Twitter and email her here at TV Fanatic.