Chicago Fire Season 3 Episode 5 Review: The Nuclear Option
Bridget Liszewski at . Updated at .
There's an old saying that goes, "It's not what happens to you, but how you react that matters." I couldn't help but be reminded of this as I watched Chicago Fire Season 3 Episode 5.
While there were many intense moments and rescues, par for the course on this show, it was hard not to feel as if the foundation was being laid for story lines that are going to play out as the season progresses. The true test, and what will be interesting to watch, will be how each of Chicago Fire's characters respond to the current challenges laid before them.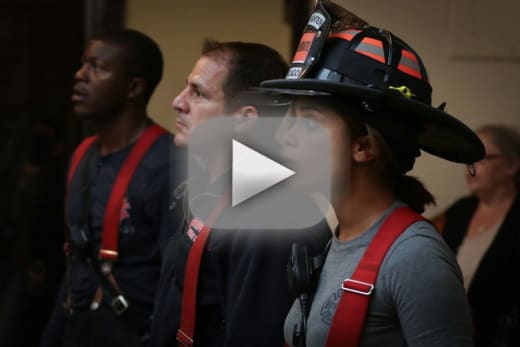 First up was Casey as he dealt with the shock of finding out his sister is getting a divorce. I admit, I was a little concerned that someone who proclaimed to Dawson that it was his duty to watch over his sister, could be so out of touch with her, that he didn't realize she was going through such troubles. Hopefully this will serve as a wake up call, and he can be there for his sister and niece during this difficult time.
It is always nice to see the seamless manner in which the two worlds of Chicago Fire and sister show Chicago P.D. interact, and tonight was no different as Det. Ruzek crossed over. It turned out that Casey had a right to be worried for his sister, and I really do hope that now he's involved, he can help her out of trouble. I was frightened at the way Casey resulted to threatening his brother-in-law, and I hope he can keep himself out of trouble while trying to help.
Another member of Station 51 that could use some help staying out of trouble is Severide. He's still dealing with Shay's death in an unhealthy manner, and going out drinking every night. Thankfully it's not affecting his work so far, but how long can he continue to walk that fine line? I will say, when it comes to performing a rescue, as it did with the elevator, there's still no one I'd rather have around than Severide. I just hope he can work through his issues without the help of a bottle sometime soon.
One positive note for Severide is that he seems to be forming a friendship with Shay's replacement, Sylvie Brett. She decided to stick around for the future, and I think that's a good thing. Not only does the show need more women, and I hope that she turns into another strong female character at that, but I like her partnership with Mills. They help each other out, and seem to make a great team.
Severide seemed delighted to hear that Brett would be sticking around, and I hope that joy stays purely on a friendship level. It's nice that he seems to have taken it upon himself to look out for her. In the back of my mind I can't help but worry that a drunken hookup may ruin what seems to be a blossoming friendship that would be highly beneficial to both parties. With Brett opting to stay in Chicago, I'll just have to keep my fingers crossed that doesn't happen, but only time will tell.
Finally, the last story set in motion for the rest of the season involved Herrmann's displeasure at Dawson joining the team. He was visibly upset at the preferential treatment she was getting from Casey, and I can't say I blame him. It's not like Casey was subtle about it at all. It was no surprise to see Herrmann finally fed up, and yell at Dawson for not shutting the compartment door.
It turned out of course that Dawson sensed the tension, and wanted to confront Herrmann as well. I think the decision to have her shadow him instead of Casey is a good one, and will keep trouble at bay for Casey and Dawson. It also served as a nice reminder of how much all of the guys, not just Casey, care for Dawson and want her to succeed.
Herrmann: I'm going to make a firefighter out of you.
Dawson: That's exactly what I want.
While there wasn't a whole lot of resolution doled out this week, I do think a great foundation has been laid for what's to come on Chicago Fire Season 3.
There have been some pretty bad things that have happened to these characters, the death of close friends, family situations, and being left at the altar. It's what happens next, how they choose to react, that will tell us what they are really made of, and I can't wait to see the results.
Are you afraid Casey may do something he regrets? Will Herrmann make a good mentor for Dawson? Do you worry about a Severide/Brett hookup like I do? Sound off in the comments section below, and if you wish to relive any of this season's exciting moments watch Chicago Fire online any time via TV Fanatic.
Bridget Liszewski is a staff writer for TV Fanatic. Follow her on Twitter.