Chicago Fire Set Scoop: Jesse Spencer Teases Casey's Family Dilemma, Trouble With Dawson
Jim Halterman at .
The fires that blaze in Chicago aren't the only things causing problems for Matthew Casey on Chicago Fire Season 3.
With Casey in the position of Lieutenant at Firehouse 51, his relationship with new candidate Dawson is causing some tension with the rest of the squad. And now that Casey has found out his brother-in-law is having an affair and causing money problems for his sister, he's got that fire to put out, too.
On this week's Chicago Fire Season 3 Episode 6, fans can look forward to Casey receiving some help from someone else in the house.
TV Fanatic was in Chicago last week and spent some time with the cast at the working firehouse where Chicago Fire often films. Jesse Spencer sat down with me to talk about the current season, losing original cast member Lauren German and what's ahead for the relationship of Casey and Dawson...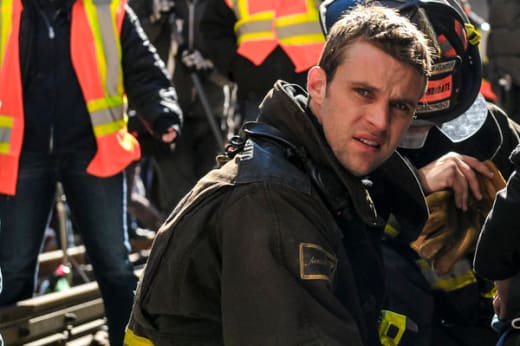 TV Fanatic: Casey has been dealing with a lot lately with his sister and her husband. What are we seeing next?
Jesse Spencer: My sister, Christie, said that they're in financial trouble, that something dicey's going on because Jim is seeing his secretary and [Casey] catches them out for dinner. So he wants to see it all laid out on the table. This is where Newhouse comes in because he's a sort of a  handy guy and the situation gets desperate. Casey goes to Newhouse  and Newhouse is able to dish up some sort of dirt which is going to aid Christy and save Violet.
TVF: In the past few episodes, Dawson's been trying to fit in with the group and there's some tension with Hermann's character but Casey seems to be on the outside of a lot of that…
JS: I think he knows it's going on because I think Dawson might infer that [Hermann's] being pretty hardcore. The reason he has put her under Hermann is so that he can be more of a good cop/bad cop sort of scenario and that he can do a lot of the legwork. He could be a lieutenant anyway and it just makes for a better work environment.
I think it's a really smart move, but then at some point down the line, there's going to be some things where Casey will have to step in, if she's screwing him up or she steps out of line or she's too comfortable with her boyfriend being the lieutenant. It will ebb and flow that's for sure.
TVF: What do you think is the key to the relationship with Dawson? Why are they good together?
JS: I think they're both really driven. They're both really driven individuals. They're good people. It's hard to tell when you're in it because I'm sort of in it.
TVF: The chemistry is great with you and Monica.
JS: The chemistry feels great. I think we work really well together, me and Monica. So, I think that chemistry translates onto screen really, really well. I mean, thank God we get along really well. She's a very smart, open, ambitious girl, I guess like her character, in those ways. It's really fun working with her. I really enjoy my one-on-one scenes with her. We kind of get to play. It's like it's playtime with me and her, so it's great.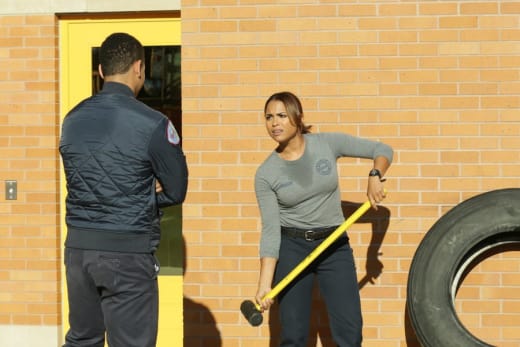 TVF: Will the Casey/Dawson relationship continue in a good place?   
JS: It's just sort of caught between a rock and a hard place so if he dresses her down as a candidate, how can you still not take that home? It's almost impossible. So these situations arise and they are going to drag home to work, at certain points but just trying to get through it, make it work.
TVF: Are we seeing Casey and Severide, because Severide's still kind of dealing with stuff on his own and not really letting people in. Does that change?
JS: No because he's obviously still off on a funny tangent and Casey obviously is very aware of that and is trying to extend the olive branch and help him out and when he comes back from Vegas, there's a new surprise, as there always is, and Casey's sort of a fixer at this point. As the lieutenant, he wants to keep his people close, and as a friend, he also wants to make sure they're okay. Let's say it's kind of humorous but it's hard to tell whether this is a good thing for Severide or not. Yeah, everyone's sort of waiting for the other shoe to drop.
TVF: Do you feel like you've been challenged differently this season, some of the story, or just there anything you've done with the character?
JS: It's just always hard. There's nothing easy about physical stuff. It's just hard.
TVF: So climbing up the ladders with all the gear isn't a piece of cake? [laughs]
JS: Running around with all the gear, when it's raining, when it's cold, when it's too hot. Nothing's ever how you would wish it would be.
TVF: Talk to me about, we lost the character of Shay, and Lauren's no longer with the show. How have you weathered that since she had been around since the start of the series.
JS: It was weird. It was kind of like we'd lost a character and a friend. So it was kind of a symbolic death for us, more or less. We had a bit of a readjustment phase and a mourning period, more or less. We really loved Lauren. Her character was great. Yeah, she'd been with us from the start, and it was really sad to see her go. And they've played it out really well, I think, in the season. They didn't just let it go.
TVF: But I guess it shows that there are stakes for everyone on the show, right?
JS: Right. No one's jobs are safe.
Chicago Fire Season 3 airs Tuesdays at 10/9c on NBC.
Jim Halterman is the West Coast Editor of TV Fanatic and the owner of JimHalterman.com. Follow him on Twitter.