Sons of Anarchy Season 7 Episode 6 Review: Smoke Em If You Got Em

Christine Orlando at . Updated at .
To say that the carnage on Sons of Anarchy season 7 has been hard to take is a gross understatement.
Every episode is filled with not just acts of violence, but mass murder. Yet somehow these characters manage to justify their actions over and over again.
Perhaps one of the bigger mysteries is that despite the fact that I'm usually completely turned off by so much bloodshed, I keep tuning back in week after week. It's not because reviewing the show is my job.
I'd be watching anyway because the intricate web of lies and deceptions that has taken place over these seven seasons has completely sucked me in. On the surface, these characters are blood thirsty monsters and yet they are so very human that I can't help but continue to watch.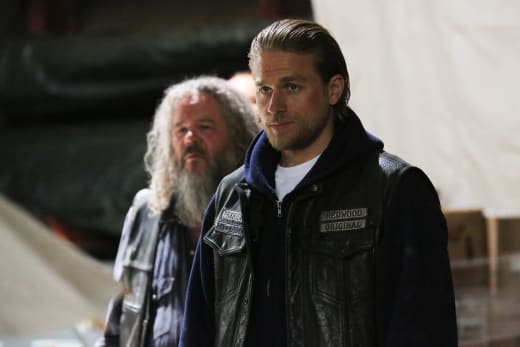 After viewing these last seven episodes, I'm not sure if show creator Kurt Sutter is a mad man or a genius. Probably a little of both. 
But let's talk specifics about Sons of Anarchy Season 7 Episode 6.
As Tig pointed out, they're running our of room for bodies in Cedar Woods but it didn't matter. Jax was once again sending a message and when the neo-nazis wouldn't take the bodies in the truck, Jax left them in a pile outside of Pope Partners construction. There's no way that message gets lost in translation. 
But Jax bloodlust has gotten tiresome. When he and the boys toasted at Diosa and Jax said they'd made it right, all I could think was what a bunch of crap that was. Those women had nothing to do with the war that he's waging but they lost their lives all the same. There's nothing even remotely right about more revenge killings. It only assures that even more people will die as the cycle of revenge never ends. 
Nero and Jax had a talk at Diosa and I appreciated how calmly they sat there and spoke with the blood splattered curtains in the background. Jax and Nero have quite a bond but in the end I'm not really sure what that's worth as Nero pointed out in this Sons of Anarchy quote…
Jax: Who knows, may be calling you step-daddy soon.
Nero: Yeah, and we all know how well that worked out in the past.
At least no one can say Nero hasn't gone into this with his eyes open but when the Mayans picked him up and left him in a closet while they decided his fate, I couldn't help but wonder how Gemma would feel if her lie led to Nero's death. Somehow I'm not convinced that it would even pierce that shell of craziness that's surrounding her heart. 
I couldn't believe when Gemma told Unser they were done and to move his trailer off of her property. Even Jax agreed that telling the cops her story was the right thing for the club, of course neither he nor Unser have any idea what a huge lie her story really is. 
Gemma once again chatted with Tara, this time in public where people could overhear. Was she simply exhausted or is her sanity slowly slipping down the drain? And will her admittance to Gertie that she was responsible for Tara's death come back to haunt her?
Bobby's conversation with Wendy was more depressing than anything. If Wendy is truly still in love with Jax she has my sympathy. He's done ruthless things to her and although I can't see them ever being a couple again, I have to think that if it does happen it would push Wendy right over the edge of her addiction one more time. 
Jarry continued to try and give Chibs a heads up when she could and these two are the one mildly bright spot amongst all of the darkness.
Chibs: Thanks for yesterday.
Jarry: For the sex or the heads up?
Chibs: For the heads up. You should be thanking me for the sex.
And then there's Juice. I knew the moment he offered to turn on the club that he was done for. Perhaps he could have bought his way to Mexico but being a rat in this world is the surest way to a death sentence and Juice's is coming soon. I only wonder if he will rat out Gemma before he's done. Even if Jax doesn't believe it, it will plant the seeds of doubt that should lead him to the truth. Or at least I hope it does as I tune in every week waiting to see that ax fall and on this show, it wouldn't surprise me at all if it was a real ax.
Kurt Sutter, what have you done to me?
Don't miss a minute of the mayhem. Watch Sons of Anarchy online here at TV Fanatic. 
Here is a look ahead to Sons of Anarchy Season 7 Episode 7, "Greensleeves."
C. Orlando is a TV Fanatic Staff Writer. Follow her on Twitter.