Stalker Season 1 Episode 1 Review: Worth Following?
Paul Dailly at . Updated at .
Stalker kicks off with a chilling premiere.
We were introduced to FOUR stalkers in ONE episode on Stalker Season 1 Episode 1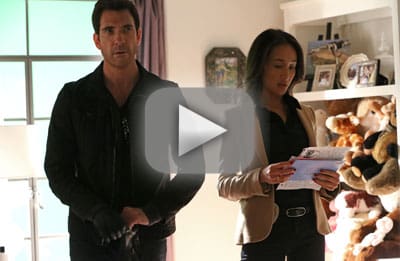 CBS has been promoting this series like crazy over the last few months. I expected it to be dark, but not this dark. They have found the perfect show to pair up with Criminal Minds.
it was supposed to be fun. It was harmless.

larry
The opening scene really made me feel uneasy. In fact, pretty much the full episode made me feel this way. 
The episode mostly focused on young women being stalked by a masked man who pours petrol on them and sets them on fire -- Is that creepy enough for you guys?
Maggie Q of Nikita fame pulled off the character of Beth really well, as did Dylan McDermott as Jack. Who would have guessed that Beth would be working with someone she feared the most?
In the episode we witness how Beth lives like a victim of a stalking. She makes sure her windows and doors are locked. She also has a bed that doesn't have any space under it and even has a door with a small gap to see a potential intruders footsteps. I don't expect to find out her back story any time soon, but I expect it will be difficult to see.
Her new partner, Jack, is revealed to be a stalker before the episode is up. At the beginning of the episode he is taking the pictures of a woman; I was expecting there to be a valid reason for this. That wasn't the case as we see his ex and mother of his child confronting him about moving to LA and warning him to stay away from them. This is another story I can't wait to find out more about!
Was anyone else shocked when the camera moved and revealed a second stalker? My heart skipped a beat when Larry looked at the camera! I knew the gym instructor was involved. He was very sketchy in his first scene. 
I liked the second case with Perry and Eric. It's not often on TV you see a male stalking another male. It was sad to see how much he was terrorizing poor Eric. Did anyone else scream "NIKITA" at the TV when she took matters into her own hands to deal with Perry?
Believe me, I know. I've been through this, much worse than this.

Beth
The episode was full of scares, which Kevin Williamson is well known for. I feel like the style of the series is very similar to The Following. I've read some interviews that suggest this series is purely procedural so I'm guessing new cases every week will be a good refresh for the series.
Stalker will not be for everyone. The violence could turn a lot of people off. I don't expect the series to have a problem gaining an audience with Criminal Minds as the lead in. They are very similar shows.
The acting was really good. I can't fault any of the leads or even the supporting cast. The actors all turned in strong, believable performances.
Eric, I know how hard it is but we have to follow the law.

Beth
The final act was the strongest part of the episode. I don't quite know the name of the song, but it was a familiar one. When we witness Beth locking up her house again as she gets ready for bed only to see Perry outside looking in, it seems evident he has found a new victim. How will Beth cope with this going forward?
This series premiere was a good teaser of what's to come for the characters. I'm really looking forward to Beth opening up about her past and also to see her taking the law into her own hands. One of the biggest questions coming out of the premiere is surrounding Jack and if he is good or bad. Only time will tell! 
What did you think of the premiere? Did you think it was violent? Sound off below.
Paul Dailly is the Associate Editor for TV Fanatic. Follow him on Twitter.