On The Mysteries of Laura Season 1 Episode 6, we delve into the world of high-end fashion! An intern to a luxury fashion designer is killed while walking his dog -- Laura and Billy are on the case!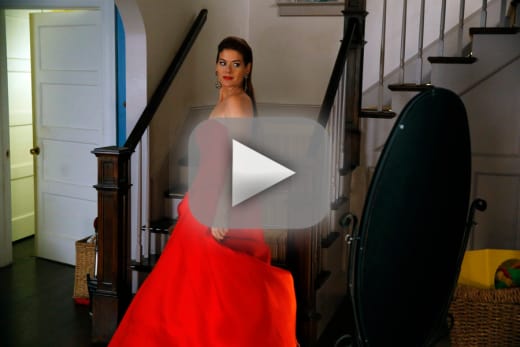 The writer's were clearly focusing on the story of the week as opposed to Laura's personal life -- it was a nice change of pace. The main story flowed extremely well and I found myself caring about the intern Tyler that was killed -- even though we never met him. Throwing in Gilles Marini as the hot-headed designer Tom was genius casting.
I found myself interested in what was going on instead of being bored as I have been in the past. The story flowed well from beginning to end and we even got some character development!
It was nice seeing them develop the character of Max and giving him a bigger part in the show. I admit that I was a little nervous when I read the description and it said that Jake would be re-evaluating Max; it turns out we did not need to worry. It is not at all surprising that Max comes from a wealthy family and that he is a dancer -- what did surprise me was that he has been an unpaid intern this whole time thanks to Laura! 
It was interesting getting a bit more on Meredith. On The Mysteries of Laura Season 1 Episode 5, we found out that she is a closet gamer. This time around we find out that she is also obsessed with fashion. I tell you, these writers are doing a fine job of fleshing out each of the characters. They are slowly giving us clues as to who these people are and why they work well together.
Case in point -- throwing Meredith and Billy together is starting to become a winning plot device. While we all love Billy and Laura working together, it is just not realistic to always put them together. Mixing up the dynamic is what is going to keep people interested the show.
The only complaint that I have? I want to know when are they going to put Laura and Jake back together. Seriously, he seems to always be at her house and we all saw that little bit of jealousy tonight -- I say just do it already and stop playing games. 
What did you think of tonight's episode? Do you think they should put Jake and Laura back together? How are you feeling about the series so far?
Go watch The Mysteries of Laura online right now via TV Fanatic to catch up on the episode you have missed!
Samantha McAllister is a staff writer for TV Fanatic. Follow her on Twitter.