I want to start off by saying congratulations to the cast and crew at The Mysteries of Laura on getting a full season order from NBC! 
On The Mysteries of Laura Season 1 Episode 7 Laura and Jake teaming up was a smart move on the writers' part. There is a lot of chemistry between Josh Lucas and Debra Messing; I find myself actually rooting for these two to get together. I enjoy their working relationship, as well, and do not want to see that get ruined.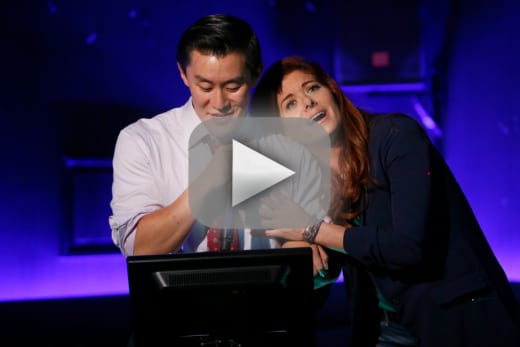 It also never fails that I find myself agreeing with Laura's logic when it comes to the ridiculous things that people are willing to spend money on. I know I am not the only one that looks at certain things and thinks, 'who the hell would spend thousands of dollars on something a two year old could make.' Thank you Laura for never letting me down!
Laura singing her heart out at the karaoke bar was pretty great, but my favorite moment was when Laura started eating the art work -- raw meat cupcake with lard frosting; yummy! 
The only request I can make is, can we please keep Laura's father around? It was rather comical watching Laura and her dad constantly butting heads -- they have exactly the same personality. He is also a fan of Jake and wants them to get back together; lets keep him around! 
Meredith is starting to become one of my favorite female detectives! She does not take crap from anyone and she is willing to go to great lengths to get the suspect that she is after -- love her. Of course my love could also be thanks to her interaction with Max; we are slowly learning just how loaded Max is.
I did find myself missing Billy tonight; yes I know he was in the episode, but I would have liked to have seen him a bit more. 
The main story, the death of a money laundering gambler named David, was actually pretty interesting. It was a cohesive story that flowed well and kept me interested from start to finish -- I appreciate the twists that they throw at us every week and I like not knowing who the killer is until the very end of the episode. 
I am looking to the writers to provide a lot more character development for the rest of the season. They have already done a stand-up job of writing interesting characters and I have no doubt that they have some great ideas in store for the rest of the season. 
What did you think of tonight's episode? What are you looking forward to seeing this season? Do you want to see more of Laura's dad?
Now is the time to catch up on The Mysteries of Laura! Go watch The Mysteries of Laura online now via TV Fanatic!
Samantha McAllister is a staff writer for TV Fanatic. Follow her on Twitter.