Modern Family Season 6 Episode 7 Review: Queer Eyes, Full Hearts
Leigh Raines at . Updated at .
Modern Family Season 6 Episode 7 was another episode of what I and Mitchell like to call "The Cam Show." The difference is that over time, Cam has begun to realize that he needs to share the spotlight.
After a Halloween episode that ended up getting panned by a lot of offended parties, I thought the latest installment of MoFam had a good message: support your partner.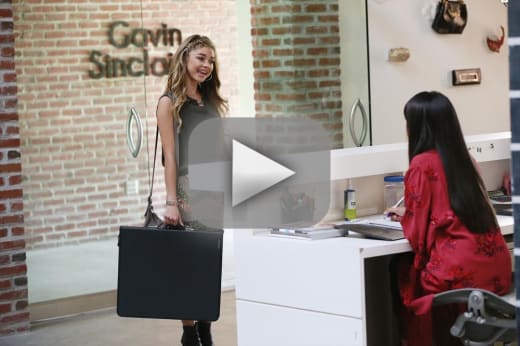 Let's get real, anybody who has ever read my reviews knows that the second I saw a title that alluded to Friday Night Lights I automatically gave this episode extra points.
Cam referring to Mitchell as his Connie Britton and Mrs. Coach had me throwing my hands up like the
"throw ya diamonds up" Emoji. 
News Reporter: How does your spouse feel about you coaching?
Cam: Oh this one, he's my rock, he's my Connie Britton.
Mitchell: Your Connie Britton?
Cam: Mrs. Coach on Friday Night Lights.
Also seriously Mitchell, get with the reference. That's an extremely high compliment. She's also one of TV's hottest gingers up there with Holland Roden (am I right?). 
My only beef with this whole storyline was that it was such a huge deal that Cam was a gay high school football coach. Who cares? I get that it's still a major social issue and still a big deal for ignorant people who feed into stereotypes, but living in a liberal city it's just so ridiculous to me. End rant here.
I'm glad Cam went to see Mitchell do his thing in court. It was really sweet. I also loved that he helped get attention for Mitchell's case during the end of the game interview. It's also important to note that Mitchell still went and supported Cam even though he felt kind of cast aside. 
Another couple that gave me an emotional moment with their support of each other was Jay and Gloria. I think we all initially laughed when Manny wanted to switch into French and Gloria insisted he take Spanish only to hire a really hot tutor for Manny.
What could be more natural than your mother's tongue in your ear?

Gloria
Naturally Jay was jealous and signed off on Manny taking French. When Gloria caught wind of this and blew a gasket, I genuinely felt bad when she explained her side. I can't imagine translating something in my mind every time I speak. How frustrating would that be? I bet Gloria really is a lot smarter than people give her credit for!
I was so happy that Jay ended up rehiring the tutor...for himself. That's love right there, people.
Lastly Andy and Haley brought their A game this week. We all thought that something was going to develop after that kiss but apparently he's back with Beth. Puh-lease. I'm not giving up on my Haley-Andy shipping yet! I'm with you Claire!
The way they supported each other was great and they are developing a true bond that goes beyond a fleeting flirtation. Perhaps that's how that might end up with each other in the end.
Relive Haley's awesome interview moment when you watch Modern Family online!!