Scorpion Season 1 Episode 7 Review: Father's Day

Allison Nichols at . Updated at .
It's actually not all that surprising that Toby's fake dog would be a teacup Chihuahua named Sprinkles.
On Scorpion Season 1 Episode 7, Ralph's father resurfaced. Was anyone else as surprised as Sylvester that Ralph has a father? Hopefully some people saw this one coming.
The writers do a good job at showing how Drew's (Ralph's dad) reappearance affects multiple people. The team went into protective mode, only wanting the best for Ralph. What would have made this stronger would have been if Ralph was shown with the team a little bit more. There hasn't been all that much interaction.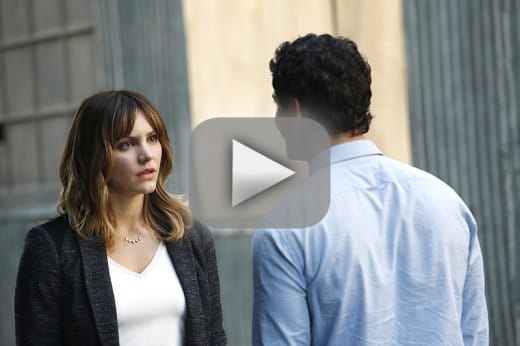 If Ralph appears, it is only for a minute or two, and the focus is not typically on him. He's a bookend character, but the writers place a lot of importance on him. They keep saying he is the glue that connects Paige to the team, but they don't ever show that. Ralph is everywhere and yet nowhere. Does this bother anyone else?
What the writers need to do is start incorporating him into the show more. This can be done by having Ralph somehow participate in a case or just by having more fun personal storylines with him in them. Even if the writers show someone talking to Ralph on the phone off camera that would be an improvement (it has only happened once when Walter gave him a riddle).
A definite highlight of this episode was Happy's storyline. It was great that she was not involved in Toby's search into Ralph's dad. She didn't huddle around Toby when he came to report, and she was not shown trying to sneak a peek at Drew when he walked into the team's headquarters.
This made her statement to Paige at the end even more meaningful because she had been staying away. Happy only commented on her personal experience, and the one time she got close to intervening before that, all Happy did was listen to Paige talk to Ralph. The writers did a really good job with this aspect of the story.
We have both spent our lives waiting for someone to come home just to know that we matter.

Happy
While Happy was thinking about her father, Walter was flashing back to his early memories of Cabe. Alright, it is clear that Cabe is more supportive than Walter's father was when it came to Walter hacking. It would have been nice to have flashback scenes featuring Walter's father a bit more.
Then there could have been a contrast as to how Walter was treated by his father and how Cabe treated him. All the viewers know about Walter's dad is that Walter said Cabe was more like a father than his actual father was. When there are actual flashback scenes happening, the words don't hold as much. There could have easily been a flashback scene with Walter's dad.
The writers clearly wanted to also tie in Walter's flashbacks to why Walter felt betrayed by Percy Tate. Cabe's betrayal is not anything new. The viewers are aware that things went down way back when between Walter and Cabe. It would have been better to take this time to focus on Walter's relationship with his own father. Wouldn't you like to see more of Walter's dad?
I'm going to slap it like it owes me money.

Sylvester
Oh right, the case. It was alright. There's nothing hugely exciting about it. The twist that Percy was actually the mastermind of it all was alright, but the writers never explained it. Everything prior to that revelation looked like Percy was a hostage. There was not even a suggestion on why Percy picked the Russians or why they went with Percy in the first place.
This is a not a huge issue, but it is a revelation that the writers don't elaborate on too much. Percy had ten months left on his sentence. Why would he risk that just to hack the New York Stock Exchange? There has to be another place where his code would work and he could have made money.
What did you think of the episode? Did anyone else tear up a little when Happy went to see her father? It was perfection. What was your favorite moment from the episode?
Don't forget that you can watch Scorpion online anytime via TV Fanatic. Leave me your thoughts in a comment below.