Supernatural Season 10 Episode 7 Review: Girls, Girls, Girls

Sean McKenna at . Updated at .
I think it's going to take me a few episodes involving Rowena before I can get fully on board with her being what looks like the "big bad" of Supernatural Season 10.
Her short introduction at the end of Supernatural Season 10 Episode 3 had me intrigued, and the revelation she is Crowley's mother could prove to be an interesting dynamic that makes her addition much more personal.
I feel like I should have seen the surprise coming, but it was nice to get a reveal I didn't quite expect. And watching Crowley utter "mother" with that stunned look on his face was a nice way to cap off Supernatural Season 10 Episode 7.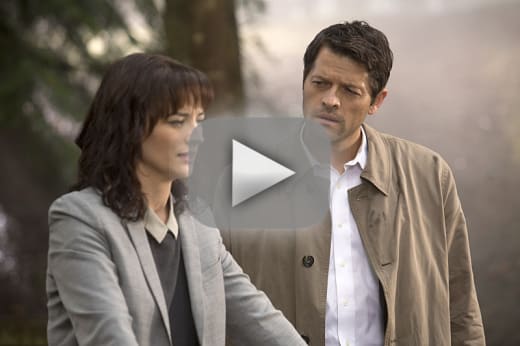 Perhaps, we might even see the return of Crowley's son. I remember Sam and Dean talking about the necessity of sending him back to his time or a ripple effect could change history. Maybe that will come into play?
Or, maybe, Gavin MacLeod will turn out to be like Adam. Definitely canon, but not really brought up again.
But, for a super powerful ancient witch that can kill demons, I found Rowena far more campy than scary. Maybe that was the point; so we might underestimate just how strong and dangerous a villain she can be, but I was having a hard time getting excited about the introduction of Rowena.
Without the revelation that she was Crowley's mother, I probably would have been OK with her being a one and done monster of the week. I'm just hoping that some time will allow her to be a much more interesting and entertaining villain for the series.
It seems like stories are getting wrapped up really quickly on Supernatural Season 10. Didn't we just introduce Cole?
I actually liked the addition of Cole to the show, and it was pretty funny seeing him show up behind Dean as the elder Winchester caught Rowena.
Cole clearly has had a bit of time training up his hunter ways in search of demon Dean, and I was glad to see them get a Round 2 fight.
Dean also gave a really great speech to Cole about Cole's father being a monster (I really loved that it was something he'd never seen before) and how they both have stories. Remember when Dean and Sam hunted Yellow-Eyes because he killed their mother?
The parallels were certainly there, and I could really see in Cole's eyes he was trying to take in everything Dean said as he prepared to lower the gun and go back to his family.
But is Dean beyond saving? I feel like the episodes keep touching on that, giving Sam some lingering looks towards his brother, and then heading out to the next hunt.
Those two are definitely going to have to talk soon. Why have they not tried to do anything about the Mark of Cain yet? Maybe, that's still affecting Dean?
Yet, as much as I really liked the Cole stuff, it felt so quickly wrapped up – see ya later – and it kind of surprised me. Is Cole's story on this show over? It certainly seemed like it.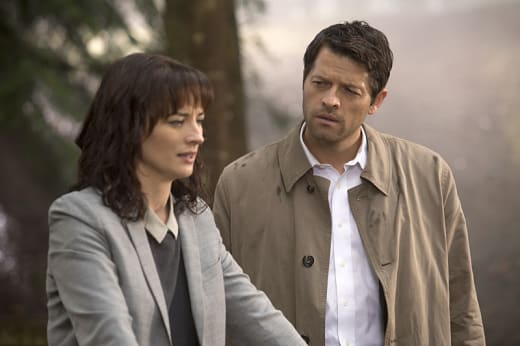 At the same time, Castiel's story with Hannah and her humanity, while slightly intriguing in the fact it brought up their human vessels, etc., just wasn't interesting to me overall. On top of that, the mission the two so adamantly were on at the beginning of the season, seemed wrapped up and done also.
Hannah left and her vessel went home. Though, the outcome affecting Castiel is a curious way to go. Might he choose to leave his own vessel?
I guess I should be thankful the hunt for the rest of the rogue angels is over. At least, I hope it is.
This was an OK episode of Supernatural that had its good moments (especially enjoyed the discussion about the dating app) and some I was less than thrilled with. It certainly moved some stories along and prepared viewers towards focus on a new "big bad," so I can only hope it all winds up paying off by season's end.
What do you think of Rowena? Do you think Cole's story is done? Sound off below and watch Supernatural online for all the latest episodes.
And here is your first look at Supernatural Season 10 Episode 8, "Hibbing 911."
Sean McKenna was a TV Fanatic Staff Writer. He retired in May of 2017. Follow him on Twitter.