We started The Mysteries of Laura Season 1 Episode 8 with a surprise murder of a woman on a party bus - they really know how to do murders well on this show.
It was the return of the much missed partnership between Billy and Laura. While the Billy/Meredith friendship/partnership is wonderful, the Laura/Billy pairing will always win.
It is so rare that we have two strong characters on a show that work extremely well together and are friends without there being a possibility for a romantic entanglement.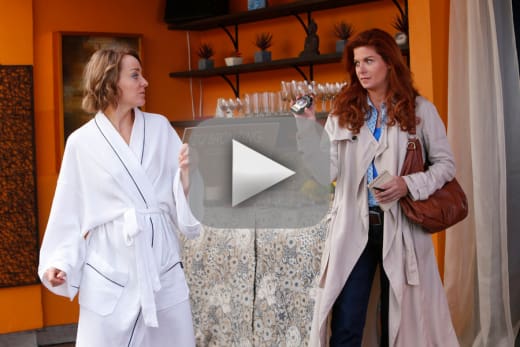 Oh Jake! You cannot block Laura's potential romantic prospects because you are still determined to get her back. We all get it, you love Laura and you are trying to change so she will take you back BUT, she will not take you back if you keep other guys away from her. You need to fight for her, Jake, and prove to Laura that you are the man that she deserves -- or you shouldn't have cheated on her in the first place.
Max is really starting to become my all time favorite character ever! There are so many great Max moments within each and every episode; tonight was no different. Max being the best friend (or BFF)  to Laura by interviewing a potential date, helping out Jake, putting on a facial mask and sitting around the office like it was no big deal proved Max is the big scene stealer; never change Max!
Billy and Meredith's training techniques for the Rock N Run showed how different -- but also how alike -- these two characters are. Billy taking away Jake's junk food and Meredith basically being the harsh drill sergeant was hilarious! When they put these two together to investigate what Julie was up to we realized why these two are great detectives; they do not take crap from anyone and they always get their man.
Was anyone else cracking up at Jake struggling to make it through the Rock N Run? Poor Meredith and Bill spent all that time trying to train him up for the event and they ended up getting last place; after placing 1st and 2nd last year. To add more salt to the wound they made Jake the hero of the event! It was a nice touch having everyone go out for drinks and dinner after the run and really showed that this group of people are a family. 
The murder of a beauty representative who turned out to be spying on the maker of the beauty products was fresh and interesting. There were a lot of twisty moments that The Mysteries of Laura is starting to be known for. The killer was not at all surprising -- sorry Heidi you were nuts -- but the crowning moment was Laura taking down Margot and revealing that she is in her early 40's; way to stick it to her!
What did you think of tonight's episode? What do you think Jake needs to do to earn Laura's love? What are some of your favorite Max moments?
Remember you can watch The Mysteries of Laura online now via TV Fanatic! 
Samantha McAllister is a staff writer for TV Fanatic. Follow her on Twitter.