Amazing, spectacular, fantastic, marvelous!
There simply aren't enough adjectives to describe the fond feelings I have for Bones Season 10 Episode 10, the Alfred Hitchcock-inspired 200th episode.
The concept is a brilliant choice. The 1950s theme not only suits the characters and story incredibly well but, as Stephan Nathan promised it would when he spoke with reporters earlier this week, the episode offers "a classic examination of the show and of the romantic nature of the show." And that is exactly what it does.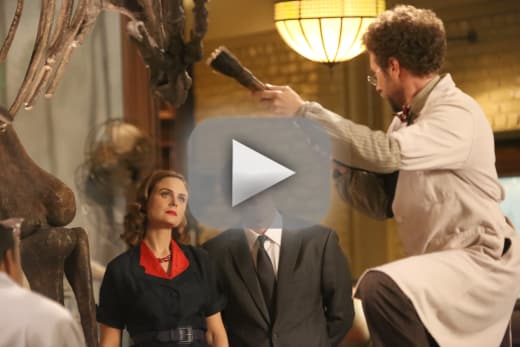 The alternate reality gives Booth and Brennan the chance to meet for the first time again; to fall for each other all over again. After ten years, it's important to see their relationship return to its roots and to be reminded why Booth and Brennan fell in love in the first place. More than that, rediscover why their partnership works so well.
The details! Clearly, this story was well thought out. Not only does it reference scenes and dynamics from previous episodes, but it offers specific dialogue choices that mirror early ones. The most obvious of these is that Booth calls Brennan by a nickname that she repeatedly asks him not to use.
Brennan: Which is why I have a proposition for you.
Booth: Please, Darlin', you're gonna make me blush.
He continues to call her "Darlin'" throughout the episode, and she continues to tell him not to call her by that name. Sound familiar? Just change it to "Bones," and there's the running joke from the first season.
There's also the smaller detail of Angela insinuating that Brennan should be open to dating Booth. In Bones Season 1 Episode 2, Angela says to Brennan, "I think he likes you. God, if I were you, I'd buy a ticket on that ride." In the 1950s universe, Angela and Brennan are still best friends, and Angela has the same opinion about Booth. Just with a slightly different, 1950s spin.
Booth is a dreamboat I'd like to take a sail on. How about you?

Angela
Booth and Brennan both have roles that are each a bit different in this world but, at their core, they are the same. Booth is a jewel thief rather than an FBI agent, but he does what he does for justice that stems from fighting in a war. And Brennan is an police detective rather than a scientist, but her personality is very much the same.
More than that, her role at work is similar to her role in the beginning of the series. In Season 1, Brennan fights to get out of the lab and into the field with Booth. In Bones Season 10 Episode 10, she fights to get into the field as a detective in a world where women are rarely able to work anywhere other than behind a desk.
Oh, and let's not forget about Booth and Brennan's constant bickering over who will drive! Whether the characters exist in 2014 or 1950, they have the same conversations. Even their ongoing conversation about faith vs. science comes up. Truly, the details and the comparisons are fantastic. After watching, I'm falling in love with Bones all over again – kind of like Booth and Brennan are able to fall in love with one another all over again.
Brennan: Don't you have faith in science?
Booth: Of course I do, Darling. Without science, we wouldn't have television. And I'm definitely getting one of those.
Brennan: I told you not to call me Darling.
In true celebratory fashion, many of our favorite characters appear, as well; and all of them are re-imagined in the most perfect way. Most of the squinterns make an appearance, along with Max, Caroline, and even Pelant (who is perhaps the most unsettling waiter on television). Of course, there are others who really should be included, but I can't imagine how difficult a task it would have been to have everyone there that we'd love to see.
Hodgins as the quirky paleontologist who learns he has a love for bugs and bones is easily my favorite re-imagined character. Cam as the maid (and the killer) is also pretty darn fantastic.
Visually, the episode is stunning. The outfits are amazing. The scenery, the coloring, and the car rides are phenomenal. This is perhaps the most artistic "alternate reality" episode I've seen. Even the opening credits are perfect. Back to the details, even the smallest details of the title cards and theme music honor the 1950s Hollywood era in the most wonderful way.
I rarely enjoy these sorts of "alternate reality" episodes in shows, and the fact that Bones was going for that theme had me a bit nervous. However, the way this episode is handled makes it work in a beautiful way. Thank goodness we avoid some sort of dream sequence or magical element of time travel. Instead, the audience is brought right into the 1950s before the episode even begins.
David Boreanaz and Emily Deschanel putting their hands in the cement and arriving on the red carpet is the perfect touch. Not only does it show the relationship the characters have with one another, but it shows the friendship the actors have as well. The way these two look at one another and smile is priceless.
What did you think, Bones Fanatics? Was "The 200th in the 10th" everything you hoped for? Don't forget to leave your thoughts in the comments below!
And what better time to re-watch the whole series? Don't forget you can always watch Bones online via TV Fanatic!
Ashley Bissette Sumerel was a staff writer for TV Fanatic. She retired in September 2017. Follow her on Twitter and on Google+.