Gossip Girl Season 2 Episode 22 Rewatch: A Southern Gentlemen Prefer Blondes
Leigh Raines at .
GEORGINA!!!
Sorry, I know she didn't arrive until the end of Gossip Girl Season 2 Episode 22, but I couldn't contain my excitement!
Okay, so how did G end up back in NYC? Let's start at the beginning...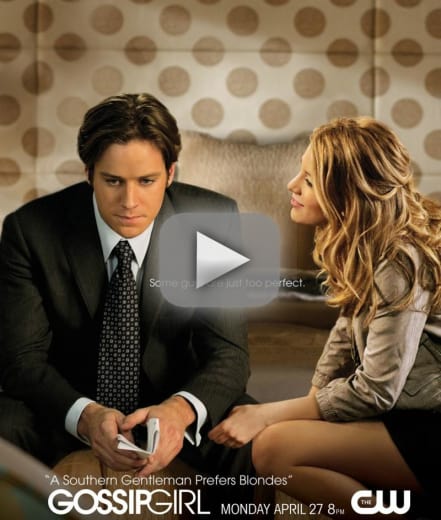 Nate tried to teach Blair how to take the subway so they can easily commute between NYU and Columbia next year. HA. She was not that interested. Then Serena mentioned how Gabriel keeps "poofing" away in the middle of their time together. Now that is something that Blair was much more interested in!
Blair tried to reason with Serena, but everyone knows that when Serena falls for a guy she doesn't really care what anyone else thinks about it.
[to Serena] He fell in love with you while you were roofied. How romantic!

Blair
With that in mind, Blair busted out her trusty beret and did recon. She ran into Chuck outside, naturally, and they decided it wouldn't be horrible to be acquaintances. Too bad that even though Blair and Nate fit together like a pair of old slippers, there really was no trust there. 
It must have been difficult to watch Blair get all excited playing spy games with Chuck and plotting over Serena's new boyfriend. Because even if Blair claimed to Serena that Nate had "learned a thing or two" there was just zero spark between them at that point. 
Seriously, the last time those two had chemistry was at cotillion in Gossip Girl Season 1 Episode 10 when they finally had sex for the first time to One Republic's "Apologize." Yes yes, it was a great scene.
Back to the plotting and scheming, we found out that Gabriel is still popping Poppy. No shocker there. They're using Poppy's contacts and now Serena's to swindle people out of money. The only weird part was when Gabriel suddenly grew a conscience and told Rufus to invest his money elsewhere. That doesn't happen. You're either a money swindling scumbag or you're not. It's that simple!
Poor Rufus. At least he decided to make moves and propose to Lily! 
By the end of the episode, Chuck and Blair had planted enough of a seed of doubt in Serena's mind to make her doubt Gabriel and his red satin sheets. All because Blair knew a little fact like that Butter was closed the night Gabriel claimed to meet Serena. 
Also, that episode when Georgina roofied Serena wasn't even filmed at Butter, as other episodes were. Minor detail is all.
Before Blair willingly took off with Chuck to go find Georgina, her sworn enemy, Nate told her that he leased an apartment for them. An apartment that even Chuck said she wouldn't like. 
[to Nate] Murray Hill? Even your mother is too hip for this zip code.

Chuck
Not to mention that Nate did it for the wrong reasons...but nonetheless, it wasn't worse than Chuck tricking Blair into taking the ride out to Jesus Camp only to tell her to wait in the car.
Alas, we see G! Of course she confirmed the truth, that they never made it to Butter that night. Gabriel lied. Then she decided to hitch a ride back to NYC with Chuck. Only it was a little too late. Gabriel had taken off with half a mill (probably some BS Poppy claimed for their scheme) and Blair took Chuck's limo back to the Big Apple without him.
Now it's just Chuck Bass against a taxi meter to save the day!
NOTE: Are you looking to watch Gossip Girl online? Follow link to do so.