Scorpion Season 1 Episode 11 Review: Revenge

Allison Nichols at . Updated at .
Sylvester really shouldn't go out into the field anymore.
In Scorpion Season 1 Episode 11, Sylvester accidentally set off an explosive device, sending him to the hospital. The writers didn't do that great of a job with this storyline.
Aside from Toby's brief trip down memory lane, the team doesn't reflect on their time with Sylvester. This would have been a great episode to have some more background on what Sylvester was like early on, or what everyone first thought of him when they met him.
Instead, it is all about how people deal. Well, it's mainly about how Paige worries about Walter who is just focusing on getting the work down. It's a let down. Now it would have felt weird to have Walter get really emotional, and so the scenes where it is clear he is off are great. There just could have been more done with everyone else.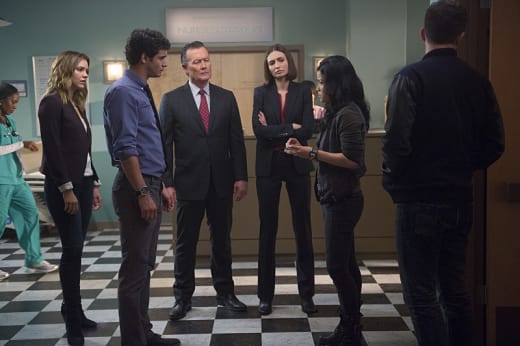 Paige could have tried to get Walter to open up more, or she could have even taken the time to process this. Happy and Toby had a couple great scenes, but they could have had a scene with Cabe or Paige or even Walter. It would have been interesting to see how Walter reacted to Toby's early memories of Sylvester.
In Scorpion Season 1 Episode 10, Megan and Sylvester bonding helped pave the way for this episode. If that episode hadn't had been there, it would have felt weird to see Sylvester share his fear with her. The two of them are pretty great to watch and, hopefully, Megan will stick around to help Sylvester work through his fear.
Sylvester being afraid to go back to work makes perfect sense. It's a great arc for his character. Now it just needs to be followed up. We need to see Sylvester slowly trying to ease himself back into work. It could also be a good way for Paige to bond with Sylvester. She could maybe try to help him out.
Alright, let's talk about the case of the week, shall we? Aside from the one instance where Toby said this is more Sylvester's thing, there wasn't really a struggle working without Sylvester. That's a shame. The focus should be on the differences in genius each team member has – Toby as the behaviorist, Happy as the mechanical prodigy, and then both Sylvester and Walter being computer specialists.
They put our boy in the hospital. There's no way any of us are going to stand down.

Agent Gallo
Actually, everyone is computer savvy. There hasn't really been enough of a distinction as to what differentiates Walter from Sylvester, or what can Sylvester do that Walter can't. All that comes to mind is a photographic memory. This would have been a great case to show what Sylvester brings to the team by having him not be there, and having everyone else struggle to do what Sylvester could do in a second.
Other than that, the case was alright. The best part was definitely the interrogation when Toby got stabbed by Cabe. Any guesses on how long Cabe wanted to do that? The agent who tagged along is definitely an interesting match with the team – especially opposite Paige – but she didn't make a lasting impression.
What will be really interesting is seeing if Walter continues to spend time focusing on whether or not he could have saved that thief. By posing the situation to Sylvester in a hidden way, Walter was clearly showing it was on his mind. Hopefully this storyline won't slip away.
What did you think of "Revenge"? Is anyone else waiting for Drew to drop the Portland news on Paige so we can get it over with? Leave me your thoughts in a comment below.
Don't forget you can watch Scorpion online via TV Fanatic!