Gotham Season 1 Episode 11 Review: Rogues' Gallery

Sean McKenna at . Updated at .
If Gotham had New Year's resolutions, I could only hope they were to create a far more engaging storyline for a season-long arc, provide characters with depth and move away from some of the campiness.
But after watching Gotham Season 1 Episode 11, I'm not sure Gotham is looking to change. Or if it is, it's taking its sweet time to do so.
Ultimately, Gotham's return left me rather bored, and that's disappointing considering the show has such a solid cast (down even to its guest stars), rich source material and the feeling that it could be something great.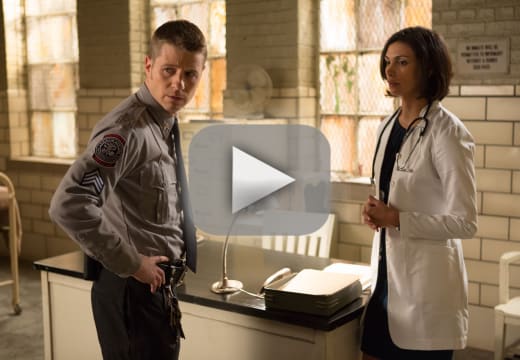 Jim Gordon's new job is at Arkham Asylum, the famous Batman location where the Caped Crusader's villains and foes are placed after their capture. It's clear this is a place for the crazy and, yet, it definitely seems like the city rushed into reopening it. The building looks ancient, there don't seem to be any guards around except Jim (the new guy), and the lighting in the place looks almost nonexistent.
There's a bit of old school scare associated with someone using electric shock therapy to get others to do their bidding, especially in a place that looks like a haunted mansion. So there was a certain creep factor surrounding Jim's case.
But that's just it. Despite Jim's new job and new location, he was still simply working a case of the week. He even managed to get Harvey to come help.
It was simply a game of "guess who did it" as each possible suspect was killed or eliminated until the final reveal as the guy was seen driving away.
I'll give the show credit for not killing off this new character in the same episode he premiered, but he's still just another bad guy introduced who isn't anything more than a bad guy Jim was trying to track down.
By the time we even got to the reveal, amidst all the "twists" of who was causing havoc, I really didn't care. Which also is sad considering actor Christopher Heyerdahl was portraying the main culprit, and I've seen what he can do when given a character with far more depth (just see him on Hell on Wheels or Supernatural).
It goes back to establishing characters, good or evil, that are worth caring about.
That certainly applies to the other drama happening in the episode.
It was good that we got to focus on Butch a bit more than just a henchman to Fish, and we did see he was loyal to her. However, his major move to kill a friend (who was established and murdered in the same hour) just didn't have quite the dramatic impact. Just another guy tossed in to get taken out.
As for the Barbara and Montoya melodrama? Simply eye-rolling.
We go from a surprise reveal that she's in bed with Montoya in Gotham Season 1 Episode 9 to their sudden bickering about how she has to leave.
To top that off, she flips out after she decides to call Jim and hears a little girl's voice on the phone. How could she not tell Ivy sounds like a kid? Ugh.
I want to like Gotham. I really do. But with each passing episode, the heavy campiness, the dialogue, the stories and the characters continue to leave much to be desired. It's not enough to simply take a famous property and characters and put a new spin on it. We've got to be engaged in the stories and especially the characters involved.
It's 11 episodes in now for Gotham, and something definitely needs to change.
What did you think? Are you still loving Gotham? Think it needs work? Sound off below. Also make sure if you're not all caught up, to watch Gotham online now.
NOTE: Gotham Season 1 Episode 12 is titled "What the Little Bird Told Him" and it airs on Monday, January 19.
Sean McKenna was a TV Fanatic Staff Writer. He retired in May of 2017. Follow him on Twitter.