Modern Family Season 6 Episode 12 Review: The Big Guns
Leigh Raines at . Updated at .
It's not always easy to put up with your neighbors, especially when it's pot dealers with a huge boat.
Modern Family Season 6 Episode 12 saw Phil and Claire trying to persuade their neighbors to move their big, tacky boat.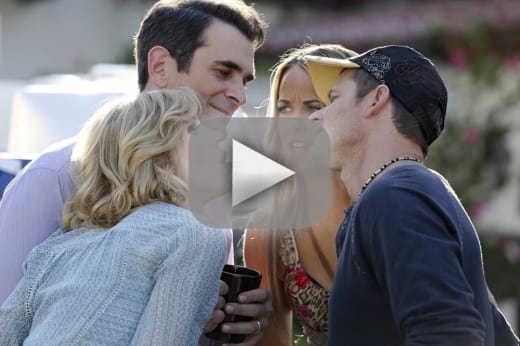 Per usual, Phil assumes the role of good cop. He cooks up some homemade banana bread to bring over and try to butter them up. When he and Claire ask them to move the boat, it backfires. Now with everyone angry, the Dunphys decide to pull out the big guns: Phil's dad.
Phil's dad and his old buddies drive down in their huge RVs. Only that plan backfires when everyone ends up bonding with the neighbors and smoking some pot. I giggled when Haley tried to get in on that action and Claire quickly shut her down.
Haley [smells pot]: Hey! Smells like a party!
Claire: Back inside.
Haley: Ok.
In the end, Phil and the neighbors are about to make peace when the cops show up. You know it was only a matter of time until Claire was going to harass the police!
Over at Jay's house, Joe is in potty training mode. Gloria doesn't want to push him, but Jay says it's time. If I were Jay I would agree. Going to the store for diapers and having the workers assume you are there for adult diapers is pretty embarrassing. 
Jay: You know I raised two fully functional children.
Gloria: You have two kids that I don't know about?
That was a classic line right there. Everyone knows that Claire and Mitchell have their issues thanks to growing up with Jay and Dede.
One of Mitchell's more prominent issues is the fact that he hates his husband's clown hobby. That's why Cam decided to lie about taking Lily to junior clown college. I don't blame him on that! The gig started out cheesy, but Lily started pulling some mean spirited jokes and Mitchell was quickly amused.
When he finally pulled aside Lily to see why she was pulling the pranks, Lily admitted that she really didn't want to be a clown. After hugging her with joy, Mitchell told her to tell Cam the truth. Only Lily felt too bad. She came up with a soothing lie on the spot that also got her out of being a clown.
It turns out she might take after Mitchell more than Cam!
Coming up with a lie like that in the moment? That girl is no clown, she's gonna be a lawyer.

Mitchell
Don't forget you can watch Modern Family online to catch up at anytime!