Sleepy Hollow Season 2 Episode 13 Review: Pittura Infamante

Henry A. Otero at . Updated at .
The minute Ichabod and Katrina were paired up for Sleepy Hollow Season 2 Episode 13, I had a bad feeling we were in for a bumpy ride.
Sure the concept was cool; a killer from the Crane's past hiding inside a painting à la Dorian Gray. I just didn't find the episode engaging, and actually dozed off halfway through.
I will say, that shot that transitioned from painting to the live actors inside it was brilliant. It was just one of the few fun moments in an otherwise mediocre installment.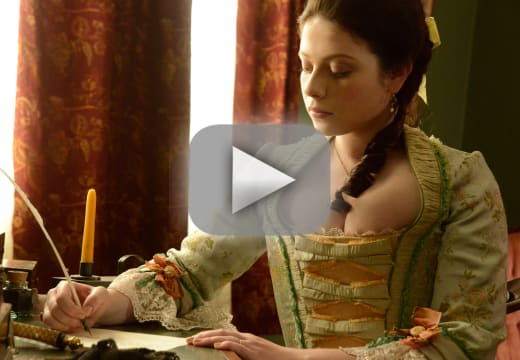 The bleeding painting at the top was wicked, but the moment was cut short so Ichabod could bitch about modern clothes. He's terribly whiny this season isn't he?
Nicole Beharie still manages to elevate a scene without saying a word. You can just feel how uncomfortable she is around Katrina, which is understandable. When Kat entered the room, I caught myself rolling my eyes.
Ichabod: Katrina and I owe it to each other to have an evening free from apocalyptic trial. A chance for us to see who we are to one another. In this new modern context. If we are to be anything at all.
Abbie: A night out isn't going to change the fact that she's done things to compromise our team.
You tell him Abbie! Those writers sure are trying to make Katrina work aren't they? I think that ship has sailed unfortunately.
The Historical Society Banquet was an ideal setting and the Crane's fit in perfectly. The butt grabbing was a nice touch too. Nothing like hearing Ichabod say "get a room."
Didn't the art restorer, Mr. Hollister, remind you of a young John Noble? I'm talking a resemblance and mannerisms, definitely not the voice. Anyway, I thought perhaps this casting choice was intentional to subconsciously remind us of Henry.
You didn't need to be a witch to predict the art restorer had a date with death; poor fellow. How about Abigail Adams' toasting Kat's motherhood and the line "Ichabod's going to be the happiest man alive. That is until he meets the little monster." I loved that!
This place is bringing my old friend Abigail back to me. I get the distinct feeling these memories have purpose.

Katrina
Cue the blood curdling scream! The timing was almost too perfect on that one. Poor John Noble look-alike, he never stood a chance.
Elsewhere, Captain Irving showed up at the station. Crane's mention of Andy Brooks, was a hint that Irving is some kind of zombie. Question is, does Henry still control him? I'm just so glad Orlando Jones is back, don't even mind that he's the Walking Dead.
Captain Reyes reappeared this week, and I still don't like her as I mentioned in my midseason report card. Though I'm starting to agree with our readers that Katrina is the worst character this season.
Turning over the hanged man reflects struggle; from death to rebirth. Of course, this death is identical to a series of murders from 1781.

Katrina
It's amusing that Ichabod can't bring himself to say the word witch. Not so cool is Katrina admitting (once again) she was powerless to do anything to solve the murders in the past. Worst witch ever!
I admit, the artist in the painting turning around to look angrily at the Crane's was chilling. It was without a doubt the creepiest moment of the episode, along with him rising up from a puddle of paint/blood.
When Colby was exiled he became a limner artist traveling the Hudson valley offering portraits in exchange for room and board. He disappeared without a trace in 1782.

Ichabod
In the end, Ichabod and Katrina solve the mystery and confront the evil artist. As I mentioned at the top, the transition from painting to the live actors inside it was a highlight for me. It's probably the one moment I'll remember from this installment. Abbie conveniently arrives, shoots a few rounds in the painting and... case closed.
This week's case was definitely not one of my favorites. The flashbacks felt forced and Michelle Trachtenberg didn't work for me. She pulled me out of the story a bit. I was glad Hawley was mentioned yet not seen, and Jenny poking into that corpse to retrieve the platinum bullets was good fun.
With just a handful of episodes left, I hope the writers manage to get back on track. I'm not a fan of this season.
What did you think of "Pittura Infamante?" Did you enjoy it more than I did? How did you feel about Abigail Adams? What about the killer artist, Colby? Your turn guys, hit the comments below and share your thoughts with me. Look for our Sleepy Hollow round table later this week.
Miss this episode? Remember you can watch Sleepy Hollow online via TV Fanatic at any time.
NOTE: Sleepy Hollow Season 2 Episode 14 will be titled "Kali Yuga" and air on January 26.