Arrow Spoilers: The Atom Soars, Ra's Returns & More Secrets Come Out!
Jim Halterman at . Updated at .
You know those episodes of Arrow that you might call game changers?
Arrow Season 3 Episode 15 is one of those episodes.
Titled "Nanda Parbat," it will feature Oliver getting a chance to face Ra's al Ghul once again, as fans hope for a better outcome than the one that concluded Arrow Season 3 Episode 9.
At The CW offices this week, I was treated to a sneak peek at the upcoming installment, watching it alongside executive producers Marc Guggenheim and Andrew Kriesberg as well as stars John Barrowman (Malcolm Merlyn) and Katrina Law (Nyssa).
Most of our Q&A will be posted after the episode airs on Wednesday night, but here is a preview of what you can expect from the intense hour...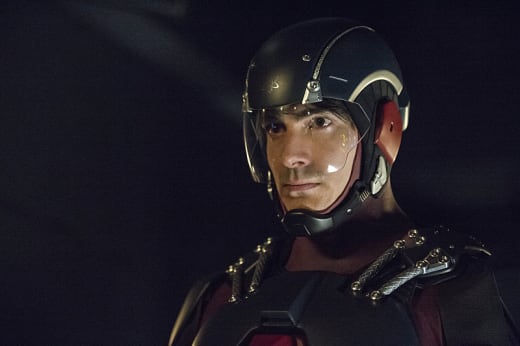 Arrow team members continue to not really listen to Oliver, acting on their own... and he's not happy about it. It's a nice change of pace to see the squad with a new independent confidence.
Cliffhanger time! As Kreisberg explained of the episode's ending: "It's designed to be this crazy cliffhanger and to have all this amazing stuff in it...
"I think that Willa has just risen to such amazing heights these last few episodes, and continues in this one. Seeing what she's willing to do, and then what Oliver's willing to do for her soul. One of the things we talked about, very early on, was that this season is really the fight for Thea's soul. More than anything, victory this season for Oliver is saving Thea.
"She's caught between these disparate forces and then seeing what happens to Merlyn after these episodes, it's the most screwed up family show we could possibly think of. Family matters."
We've seen the photos of Brandon Routh as A.T.O.M. But while he's taking flight, so might another part of his life. Does that mean something romantic with Felicity? You'll know after you see the episode.
Guggenheim is more than a little psyched for fans to see A.T.O.M. actually take off, literally. "I'm really excited for people to see 'The A.T.O.M.' suit in its full glory and the first time Ray flies. It's a big moment for us."
He added: "This show is not The Flash. We don't traffic in these visuals so it was a big deal for us to get this kind of character on the show looking the way he does and everything."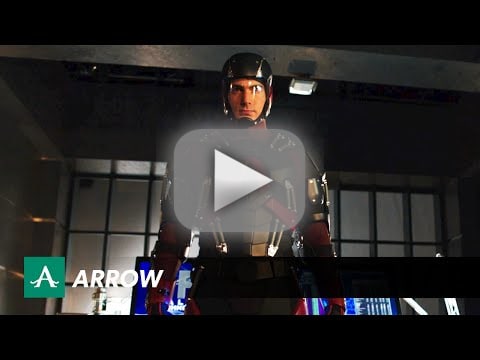 Since we are seeing Ra's al Ghul again in this episode, Kriesberg hinted at what version of Ra's we're going to get based on other projects: "Let's just say our version of Ra's, on the TV show, is a lot closer to the comic books than you've seen in other live action adaptations."
We're reminded by Guggenheim that Nyssa's origins are quite different from just about everyone else on the show.
"Unlike all these other people who had normal lives and then tragedy turned them into what they were, she was turned into what she was from birth. She's actually going on a different trajectory where she's seeing what kindness look like for the first time."
And because of events in the episode, watch for Nyssa's journey to go in an unexpected direction.
Secrets are coming out, but there are also more secrets to be kept. In short, secrets are more important than we sometimes give the writers credit for.
"The currency of the show is secrets," said Guggenheim. "I would never admit to reading recaps and reviews after an episode airs, but were I to, I was a little surprised by the number of people who said, 'Finally, Lance knows the secret of Sara. Laurel should have told him back in episode three.' I think that misses the point of these revelations, in the latter half of the season, have currency only because the secrets have been kept for so long and the storylines have been simmering on the boiler for so long.
"We're always saying we drop this little land mines and then we wait, tick, tick, tick, tick, tick for them to get detonated. That's a big a part of what makes the show the show."
Revenge, vengeance and sacrifice, oh my! Guggenheim also talked about what's coming in terms of all those things. "I think revenge and vengeance has always been the undercurrent of the show. It's one of those elements that we always traffic in and sometimes its right at the surface, like you said, like in a recent episode, and other times its way below."
Looking ahead, he added: "In the next batch of episodes a lot of it has to do with sacrifice and what all the different people in our drama are willing to do for all the other people in the drama. It doesn't have to be life and death but there's a variety of different forms of sacrifice."
There's so much more for us to discuss once the episode has aired, so be sure to check back tomorrow for teasers and tidbits from Kreisberg, Guggenheim, Law and Barrowman.
Arrow Season 3 airs Wednesdays at 8/7c on The CW. 
Jim Halterman is the West Coast Editor of TV Fanatic and the owner of JimHalterman.com. Follow him on Twitter.