Chicago PD Season 2 Episode 15 Review: What Do You Do
Paul Dailly at . Updated at .
Are any of our characters ever safe?
Chicago PD Season 2 Episode 15 found Burgess and Roman in another terrifying situation. These two seem attracted to the most violent calls. Will they ever catch a break? Maybe they need to be on the calls since they're the ones who make it out alive.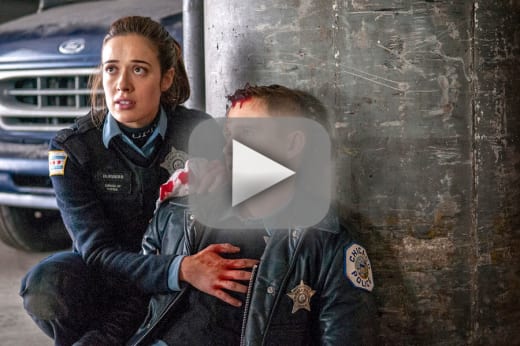 I must comment on Burgess. Why didn't she just run back to the gas station and alert the force? You'd think after what happened to her a few weeks ago, that she'd be more clued up on what to do in these situations.
She had so many opportunities to make a quick escape and get help. I understand she wanted to make sure Roman was safe, but as Roman said, it's better one of them surviving than none, right?
I will admit, Burgess was badass in everything she did. She didn't act frightened at all. She sure showed us that she had what it takes to be in her job.
There were so many occasions it looked like she and Roman were going to escape, but another bad guy would appear, each being more evil than the last one.
Did anyone think Roman would die? I certainly wasn't ruling it out. The guy is one of the most annoying characters on TV at the moment. It's like his purpose is to infuriate us.
The whole last stand against the captor was certainly deadly. I'm sure I wasn't the only that knew Burgess didn't really jump out the window. It would have been out of character if she did, considering she didn't try to make an escape earlier.
The first scene with them knocking on the door was very tense. I expected the guy to pull a gun on them, not to fall to the floor and die.
It was good that Roman actually watched the paramedics so he knew what to do in these situations. It was clear Burgess didn't do the same. It just goes to show that even gaining a small knowledge of a subject can save a life.
O'Ryan was the most evil of the captors. He was just so rude about everything. He didn't want anyone to survive because his name was mentioned, meaning he could easily be found by the police. Considering how well Burgess fought against him, she could have probably overpowered him much earlier.
My partners been shot. We're leaving.

Burgess
Elsewhere, Ruzek knew something wasn't right when she didn't reply back to his calls or texts. In their line of work, if one is out of contact. then something is most definitely wrong. It was great that Voight said to take the whole team to the last known location of Burgess and Roman. This showed us just how much he valued his team and cares for them.
Was anyone else shocked that the Platt and Olinsky developments from Chicago PD Season 2 Episode 14 were dropped? Platt's jokes were on point and as witty as ever.
Ruzek: Sergeant, have you seen Burgess?
Platt: In the past, yes. In the present, no.
"What Would You Do" was a pulse pounding hour of television. Knowing that the Chicago series are not scared of killing off characters made this a little difficult to watch. We could have lost Roman without losing much, but losing Burgess would be as big a loss as losing Shay over on Chicago Fire.
Other tidbits from the episode:
The team using the taser on each other was hilarious. The best part was Halstead getting revenge on Lindsay.
Did anyone else think that Burgess was going to ask for the job she declined? It's now the next logical step for the character,
Why have Linstead still not come clean to Voight? It's dragging this storyline out now.
The guy in the diner was creepy and way too observant.
Remember you can watch Chicago PD online, right here on TV Fanatic. Get caught up on the drama now.
What did you think of the episode? Should Burgess have escaped earlier? Will she get the opportunity to take the job again? Hit the comments below.
Paul Dailly is the Associate Editor for TV Fanatic. Follow him on Twitter.