Pretty Little Liars Q&A: Keegan Allen on Spoby, Life on the Force, His Photo Book
Jim Halterman at . Updated at .
That's Officer Cavanaugh to you, A.
Indeed, if you've been keeping up with Pretty Little Liars Season 5, you know that Toby Cavanaugh is now dressed in blue as a policeman, as things in Rosewood continue to get more and more complicated.
But how is his position affecting him personally? And, of course, his relationship with Spencer? Will his work in the police department help everyone finally get rid of A and her minions?
Keegan Allen promises things are definitely moving in an exciting direction that will culminate later this season - but he also had another reason to be excited: the publishing of his photo book, Life, Love, Beauty, which is available today.
I jumped on the phone with Allen last week to talk all things PLL as we move into Pretty Little Liars Season 5 Episode 19, along with what inspired him to put his photos into a book for everyone to see. (And, yes, there are plenty of shots from the set of Pretty Little Liars, too!)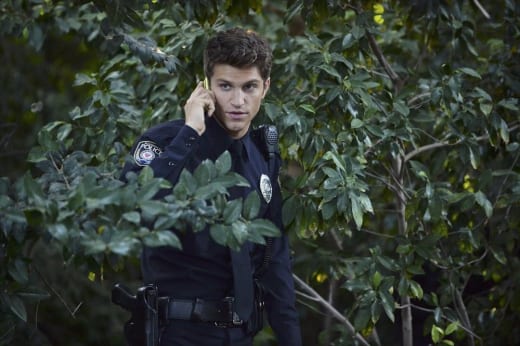 TV Fanatic: Very important question...  are you loving the cop uniform? Do you not love the cop uniform? Tell me about that.
KA: Well, it's interesting with Toby being the cop, may I also footnote, one of the most rapid police academy trainings ever. I mean he's like, "I think I'll be a cop today." It was like faster than getting a job with DMV as a stapler operator.
TVF: I just assumed Toby's that good. That's just how good he is.
KA: Yeah. He's a super cop. With all this going on with his relationship with Spencer, I was wondering what is his objective? Why is this happening? And I decided to ride along with a local law enforcement office and it was an all-day ride along and I've got to tell you, there's this controversy in law enforcement and everybody is saying whatever they're going to say about them [and] I just say 'step in their shoes for 24 hours, even for like three hours.' I was so anxious, I got home, I couldn't sleep, was so nervous, and I can imagine that job is so high-stress. I'm a very, very strong-willed person. I can go through a lot. I'm very numb to a lot of things, but that was very high-stress.
So speaking on the character going back into work and as an actor kind of understanding that, it added a whole different layer to understanding that storyline and portraying the character correctly and understanding that this is somebody that got into the force to find answers about something and now he's burdened with the reality of all these crimes and all these things, and his superior is getting involved. So it's a very real thing, the court systems and the justice system, it's terrifying and you cross that, in real life, that's something that just puts in pit in your stomach and your heart drops.
So, I don't know how that whole situation is going, and relationships are built on bargaining and and compromises. I've said many times before about the Spencer and Toby relationship, but I mean, this one is a very intense situation. When you put yourself in that position, it's mind-blowing to know what he is kind of going through internally.
TVF: We've seen it kind of impacting the relationship with Spencer already so is that something we'll see continuing in the next episodes?
KA: Yeah. It's definitely, and it arcs pretty well toward the end and we get an entire look at why things are happening the way that they are happening. I mean, a full circle, not just with Toby but with Hannah and Caleb, with Ezra and Aria, with Emily and Allison, and with this new girl Talia, there's a lot of answers and even with this Ashley/Jason thing, everything kind of comes full circle for a really, really big reason. The big, big reason at the end of season 5 that we've all kind of been waiting for the audience to receive.
TVF: In talking about the book, I know you've been taking pictures since you were a kid, so when did the Life, Love, Beauty start forming for you?
KA: Well, the book came into play pretty early on. I knew that I would want to share something with the world in this way, and I'll give you a little bit of history real quick. Before I ever began to train as an actor, I was really, really obsessed with taking photos and I have a photo journal and similar to how social media is used today where we can instantly share photos, ideas, and captions, I would do that but in a very, very archaic way of keeping it in a composition notebook.
I always had the dream of being able to share it with more people, with a wider audience, and I felt like the time was right so I accumulated a lot of images throughout my life and throughout different situations in my life and captions that I feel like could really resonate with anybody because they fall under existential themes of 'life, love, beauty' that all human beings experience in some way, shape or form, whether it's a positive or negative thing.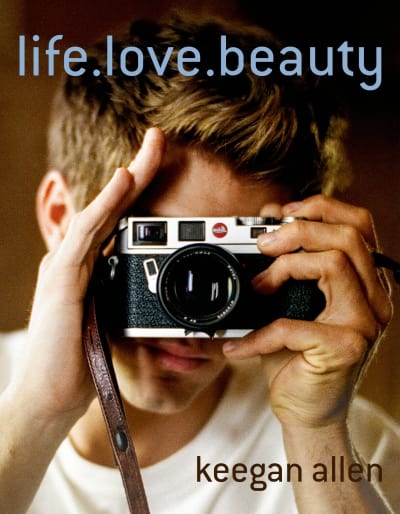 TVF: Talk about how you address the paparazzi in the book and how you give a bit of a different angle to it from your perspective.
KA: I didn't purposefully start doing that as some kind of meta-modernistic view of photography or to be a photograph of voyeurism, but it kind of started developing into a feeling that there are people that their job is to be voyeurs of people's lives and really link themselves strongly to where people are and what they're doing, but I've always have been fascinated with the paparazzi and I actually made friends with quite a few of them on the red carpet as they kind of gang themselves together, I'm over in the corner talking to them about camera equipment and gear. So, I think it's always really funny. They're the ones that photograph. They never are photographed. They're kind of just there, the ones that are the secret, the prowlers, the predators in the bushes, so to speak…they're just doing a job, maybe a bit more ferocious then someone cares to admit, but I respect them. I think they're talented in what they do and it is a profession in this day and age, because we all subscribe to their work.
TVF: Tell me about putting the book together and going through the pictures from your past. Did it kind of impact you unexpectedly at all to kind of relive a lot of that, once you were actually going through the photos?
KA: Yeah. Any kind of coming to a junction in the past is always challenging sometimes because the past is the past, and it is has a strong weight on your heart sometimes, but at the same time it's also really cathartic and relieving to be able to go through an extreme amount of photographs and kind of hand pick the ones that were my favorites or that I felt would leave the most impact, the most effective way of reaching the readers, but half of this book is the visible copy and the other half is the interaction.
And what I love about it, is that people, anybody no matter walk of life, who you are, I feel like anybody can open this book and experience something in their own lives from it. It's not didactic and it doesn't tell you, and it won't say like, "oh, feel this way." I wanted to keep it general and also really intimate so anybody could kind of have their own experience with it from their own retrospective, maybe from their own past or maybe they're looking in from the outside this realm, which is Hollywood and the glitz and glamor, but I also wanted to show the dirty side of Hollywood.
Pretty Little Liars airs Tuesdays at 8/7c on ABC Family.
Jim Halterman is the West Coast Editor of TV Fanatic and the owner of JimHalterman.com. Follow him on Twitter.