Could this be the end of Louis' reign of terror?
True, Louis had the right to feel betrayed when it was revealed to him in Suits Season 4 Episode 10 that he'd been on the outside when it came to Mike's secret.
But it seems that Suits Season 4 Episode 12 could be just what everyone needed to hit the reset button. One thing is for sure though -- it wasn't an easy reset.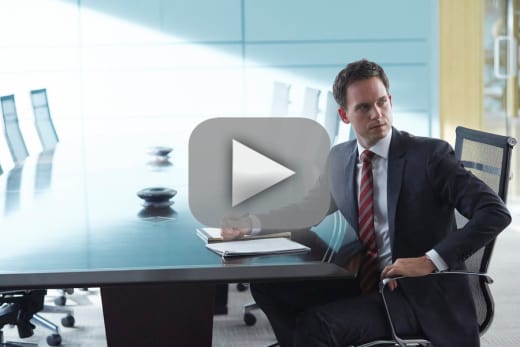 So because he was such a royal pain, we have to start this review by reaming Louis for continuing to carry this ridiculous chip on his shoulder. He may be the last person to know the truth about Mike, but he's certainly not the only one to have struggled with what it meant about the people around him.
What he fails to realize is that his struggle is no different than when Jessica found out or when Rachel found out--everyone had to struggle and wonder who these people were they had once considered friends or at the very least acquaintances. It was no easy process by any means, and it's come back to haunt them in ways they probably never even imagined.
They did not, however, personally attack their cohorts, poach their clients, damage the firm's relationship with said client, and still refuse to act like a team player until after they were called out in the best way by two or more co-workers.
No, Louis is the only one to hold this glorious title.
Now that we have that all settled, maybe Louis can get back to some actual work.
I think that moment at the end where Louis finally relented and went to Jeff to try and build some credibility behind Jessica's story was a classy and long overdue gesture. It made it pretty clear that he had really heard what Donna was trying to convey to him about what it means to be part of the firm's inner circle--taking care of your own, even if it means sticking your neck out in a way that feels less than comfortable. He's lucky to be in such an environment and surrounded by those kind of people.
One of the things that became shockingly apparent to me during this installment is that literally no matter what happens or what these characters do, it is beyond inevitable that Mike's secret will come out. Just when you thought they had secured the last loose end -- Louis -- Jeff and Prof. Gerard became liabilities that simply cannot be secured.
Sure, Jeff seems like a standup guy. But the fact that he is a standup guy that would have kept Jessica's secret regardless of its subject matter private makes the fact she still lied despite that fact even more toxic.
Perhaps its this same quality that will cause him to refrain from exposing it in some manner when he does find out about Mike. At the same time, it could be the hurt the really good guy acts out on when he finds out about Mike. The real question is, what guy will Jeff end up being.
And then there's Prof. Gerard. He's shady in every way possible, and this time wasn't our first proof of that. What proof we do have, though, is that Gerard, in lacking any record of Mike, has the exact kind of proof that could sink the ship for real. He may not be the first person to have this, but the fact that Harvey refused to admit to Mike that Gerard knew even when confronted with it makes me suspicious.
I don't feel like this is the end of things with Gerard...
Regardless, this was a pretty great installment worth a second watch as soon as possible.
So who is excited to take another trip down memory lane? These are always some of the best episodes, and their content typically draws a direct connection to the current state of the firm and its employees. I'm already asking if it's next Thursday yet!
Suddenly have the itch to go back and watch the other flashback episodes? You can do so when you watch Suits online!
NOTE: Suite Season 4 Episode 13 is titled "Fork in the Road" and it airs on February 11.
C. Charles is a TV Fanatic Staff Writer. Follow her on Twitter.