Believing that Lazarus is dead, Patrick Jane asks Teresa Lisbon to marry him in The Mentalist Season 7 Episode 13, the final episode of the series. An awe struck Lisbon says yes and the two quickly plan a small civil ceremony.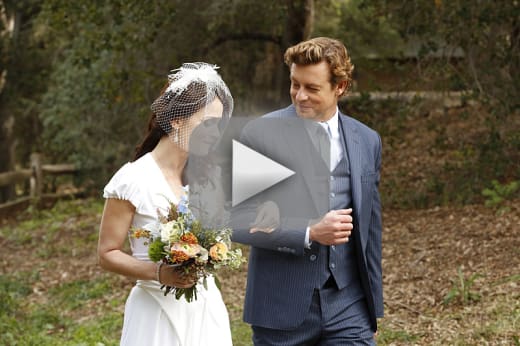 As they share the news with friends and family the guest list continues to grow. Teresa's brothers and their families fly in. Rigsby and Grace are on their way and many of their colleagues plan to be there. Abbott even offers his home for the ceremony and hires a caterer. Teresa becomes completely overwhelmed and considers eloping.
But when it is revealed that serial killer Lazarus is not only alive but coming after Jane, the wedding plans change once again. As Lazarus stalks them to Jane's cabin in the woods, the man is shocked to find an entire FBI team waiting for him inside. Once Lazarus is arrested, the happy couple can finally tie the know.
Patrick Jane and Teresa Lisbon get married in front of friends and family near the lake next to Jane's cabin. Everyone celebrates the newly wed couple and dance well into the night. Then in a quiet moment, Lisbon has some special news to share with Jane.
You can watch The Mentalist online now here at TV Fanatic. 
C. Orlando is a TV Fanatic Staff Writer. Follow her on Twitter.