Hawaii Five-0 Season 5 Episode 19 Review: Close Shave

Amanda Wolf at . Updated at .
This was one of the most balanced episodes of Hawaii Five-0 this season.
It had action, death, comic relief, a big twist and it even went so far to refer to past events! 
But the best part of Hawaii Five-0 Season 5 Episode 19 was Steve and his natural inclination to be a hero was at the center of the story.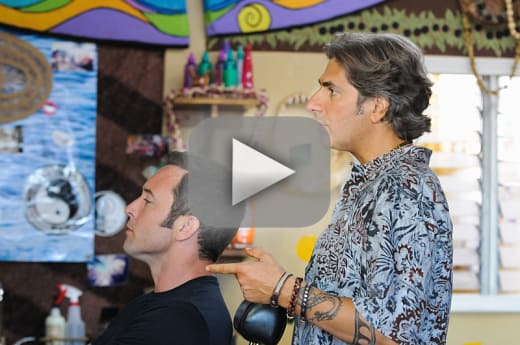 Steve was in full hero form tonight. When Aaron walked into the store and said that he had been shot after witnessing a murder, Steve was willing to protect him at all costs. While Odell was afraid and didn't know how to handle the situation, Steve got him to do what he needed to do and help Aaron.
The way Steve got Aaron to keep talking while he tried to stop the bleeding of his leg was endearing, and I think Steve is really meant to be a father someday. Of course, as I was having those thoughts, Steve broke a guy's neck and lit two others on fire. He would at least be a father who could defend his children.
It was shocking that after everything Steve and Odell went through to save Aaron, it turned out he was a serial killer who murdered children. Judging by the amount of Polaroids on that ring, it must have been a lot of children. How the H50 team had never heard of these disappearances before is somewhat of a mystery, though. 
The ending of this case was extremely painful for everyone involved. Steve's face when he was going through the stack of Polaroids was heartbreaking. Rightly so, as the discovery of something like that can be life changing and traumatizing. 
The scene between Aaron's father and Steve in the jail cell was well done. Steve hesitated to tell Aaron's father that it was over, because he legitimately had a hard time telling a father that his son was dead even though he may not have deserved to live. The scene beautifully captured the bond between a father and son no matter the circumstances. The emotions were so raw and I found it impossible not to feel for both Steve and the father. 
I thought Odell had the best reaction to Aaron's death. Odell was honest and said he didn't know if he was okay. After everything that happened throughout the day, he wanted to know what Aaron did that led him to such an extreme situation where he was shot by Steve.
Some of the fans have commented that too many times the characters on this show don't seem phased by the terrible things that happen, and I agree that is true. I was glad to see Odell's confused reaction. 
On top of Odell's reaction, we also saw both Steve and Chin comment on events that took place in Hawaii Five-0 Season 5 Episode 18. Grover told Chin that Gabriel is going to want something in return one day, and I think he is right. I predict that we will see Gabriel come back before this season is done. We also got some straightforward thoughts on how Steve feels about his mother.
Odell: I think we are done talking about this.
Steve: What are you talking about I told you about my mother.
Odell: You didn't tell me anything about your mother.
Steve: Okay, well she aided and abetted a man that was trying to kill me for years and then she went into hiding so I couldn't call it on her.
While Steve was holed up in a barber shop, Chin was helping Jerry get out of his worst nightmare: being held by the man in a jail cell. It was much needed comic relief to see Jerry facing his worst fear and seeing Chin and Grover track down a man who looked sort of like Jerry. My favorite little bit was the hug between Chin and Jerry! 
Overall, I thought this was a great hour of H50. Of course, although it was still wrapped up too quickly, it was on the slower end for Hawaii Five-0. After what have been a few less than stellar episodes in a row, it was awesome to see one that nailed it. 
Did you expect Aaron to not be what he seemed? What was your favorite scene? Do you think Gabriel will come back this season to ask for a favor from Chin? 
If you haven't seen this awesome hour yet, remember you can watch Hawaii Five-0 online via TV Fanatic!