My favorite thing about Modern Family Season 6 Episode 18 is the interaction between Haley and Alex.
Alex tags along when Haley goes to a music festival, but she's her typical uptight self – even more so, perhaps, than usual. Rather than just let her be, Haley decides Alex needs a drink and hands her a Long Island Iced Tea.
It's a moment that almost feels like a right of passage, and it makes for a bonding experience that we rarely get to see between the two sisters. They are, after all, polar opposites who rarely understand each other.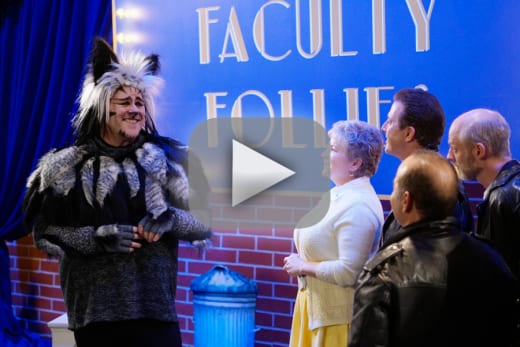 When Haley tells her mom that Alex is acting strange, Claire immediately gets on Alex's computer to learn that Alex didn't get into Harvard. It's about that time when she finds her sister, who is going completely nuts and dancing on stage. Priceless. This is a side of Alex I would love to see more often.
The thing about these two sisters is that they have the ability to balance each other out. Haley is able to help Alex not take herself so seriously, at least for now. But as it turns out, what she needs even more than that is some advice from her big sister:
You're obviously going to get into one of those snooty schools, and sometimes you're gonna come in second. Or fourth. Or maybe even tenth. But you're gonna dust yourself off, maybe put on some lipstick for once, and keep going.

Haley
Seriously, when did Haley become so profound? Of course, we all know Alex will be successful, but Haley's right. Alex also has to learn how to accept it when she doesn't come out on top.
Meanwhile, Phil and Luke's story line is one that isn't surprising. It follows a formula that that is pretty typical for their relationship, but it's still nice to see. And what's better than Phil's commentary? I can't even put into words how fabulous his banjo song about getting old was. I literally laughed out loud.
[Singing] You are not the man you used to be. You get up four times at night to pee. Ba da dum da dum tat ta ta ta. You're super duper old now.

Phil
Phil's confession to Luke about his feelings (at the doctor's office, because Phil has managed to hurt Luke's eyeball) is both endearing and hilarious. It's perfect deadpan comedy.
Phil: Then today it's, "everything I can do you can do better."
Luke: No, I can't.
Phil: Yes, you can.
Other Thoughts:
I'd really like to see something new happen with Cam. His story is pretty much filler in this episode, and the theater antics are getting old.
I love that Mitchell is the kind of dad who will rescue his daughter from camp when she doesn't want to be there – even if he's totally wrong.
What did you think of "Spring Break"? Be sure to share your thoughts in the comments below!
The next episode, Modern Family Season 6 Episode 19, is titled "Grill, Interrupted" and airs next Wednesday. Until then, you can always watch Modern Family online right here via TV Fanatic!
Ashley Bissette Sumerel was a staff writer for TV Fanatic. She retired in September 2017. Follow her on Twitter and on Google+.