Secrets and Lies Season 1 Episode 6 Review: The Confession
Paul Dailly at .
We need to talk about Kevin!
Kevin was on the war path on Secrets and Lies Season 1 Episode 6, but why? Because Ben slept with a woman whose husband was away defending the country, of course.
Yes, Kevin is the person who has been the pain in Ben's ass for the past few weeks. Well, aside from Cornell. The scenes between Ben and Kevin were nail biting. I kept wondering what his motive was and my stomach was in knots finding out that Ben isn't the first person that Kevin has tried to inflict justice upon.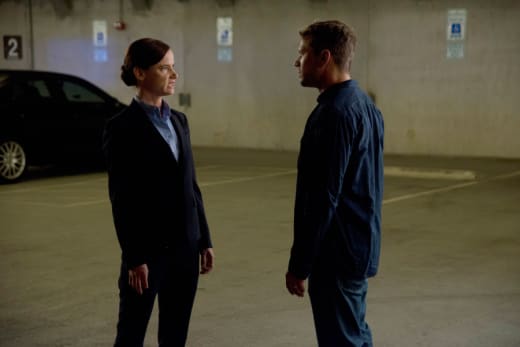 This all stemmed from his wife, Elaine, stepping out of him many moons ago. Oh, and we can't forget that Kevin was clued in on Ben's and Jess' night of passion because he freaking watched it.
Kevin: Rule 1: You die during questioning, I dump you off a bridge.
Did anyone else expect to witness another week of Ben going after a neighbor? Well, we got quite the opposite. It was refreshing, to say the least.
It appears every neighbor on the street has secrets. I can only imagine what's next. I can't believe Kevin managed to send all those darn texts from Ben's phone. Was he channeling his inner A from Pretty Little Liars?
Kevin: There's no justice.
Cornell: Yes there is Mr Williams. You just won't find it out here.
We got insight into another secret from the Crawfords. Christy had an abortion around the time Ben had a baby with Jess. The repercussions of that were shocking. It's kind of fitting that Ben went and had a baby with Jess after this.
Speaking of Jess, she is going way over the line and needs to back off. I get that she is in a bad place, but hasn't she wrecked Ben's life enough? I'm not putting all the blame on her, but she really needs to just steer clear of him for a while to give him the chance to get his life back on track.
Christy must feel even more betrayed every time she sees them together. Rightfully so. I don't doubt Jess will be getting a slap from Christy before the season is over.
It was a little surprising that Ben went to stay with Dave and left his family behind. Surely the only instinct for him would be to protect them after what's been going on around them. Although Ben has done a lot of questionable things, he loves his family and I doubt his leaving them would have helped much since Kevin still managed to get to him.
Ben, someone's after you.

Christy
It must have been really crazy to find cameras in the house. I couldn't imagine how anyone would feel in that situation.
There weren't many clues this week as the hour was mostly about Ben's stalker. I think we can rule Kevin and Elaine out. That story appears to be finished and I doubt we will see them again. Abby continues to look guilty. It's down to everything she says in scenes. It just appears forced.
The biggest twist came from the shady guy who was revealed to be a journalist on Secrets and Lies Season 1 Episode 5. He sent Ben the file about the news report putting every member of his family in the frame, but it wasn't all that it appeared to be. Ben showed up at his place and let his fists do the talking (Again!), but he was shocked to the core when it emerged that the guy wanted to take down Cornell and wanted Ben's help.
That was good! It'll be interesting to see how Cornell reacts to this, and considering the way she's treated Ben, he will be all too happy to get her into some trouble.
"The Confession" was another solid episode of this mystery drama. Sure, we didn't get solid answers, but we got a suspenseful hour and we know that we will have the truth in just five weeks.
Other tidbits from the episode:
Wouldn't Ben have been better running as far away from the warehouse as he could? Instead, he tried to get higher to get better cell reception.
The flashbacks were well placed and it added layers to the night we thought we knew everything about. I think it's fair to say we don't know all that much.
It was a bit tedious that they never let us see the scene with Ben escaping from his car and the police showing up.
Remember you can watch Secrets and Lies online, right here on TV Fanatic! Get caught up now!
Over to you, TV Fanatics. What did you think of the episode? Any new guesses for who the killer is? Chat with me in the comments.
Note: Secrets and Lies Season 1 Episode 7 airs April 12th at 9/8C on ABC.
Paul Dailly is the Associate Editor for TV Fanatic. Follow him on Twitter.