Modern Family Season 6 Episode 21 Review: Integrity

Whitney Evans at . Updated at .
You know you're in for a fun half hour whenever Jay and Phil are together. 
Of all the many Modern Family pairings over the years, the Jay and Phil dynamic has always been one of the stronger ones. I could watch Phil attempt to give Jay a high five over and over again and it would never get old.
There were a lot of moving parts on Modern Family Season 6 Episode 21 and while some storylines worked better than others, everything came together beautifully at the end, as it usually does for the Pritchett's and Dunphy's.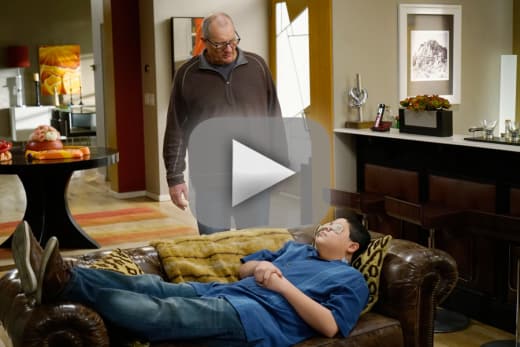 Jay and Phil's adventure involved them picking up Lily's old princess castle for Joe, much to the chagrin of Jay, who worried that his son was becoming a little too feminine.
The castle was Gloria's idea and it's always funny to see how much power she has over Jay. 
I wanted two rough and tumble boys. I got a Manny and a pedi.

Jay
Meanwhile, Phil was reeling after Claire seemingly shot down his desire to get a Ms. Pacman. Claire and Gloria are both extremely strong-willed women and it's no secret they hold the power in both their marriages and the men know it.
So, when Jay pushed that button to buy the Ms. Pacman and Phil let that castle free on the highway, you just knew it was going to come back to bite them. 
And bite them it did. 
In a nice twist, Claire revealed that she'd already bought the game for Phil, while Gloria admitted she wanted to turn the princess castle into a pirate castle. Will these men ever learn?
Over at casa de Mitch and Cam, the lovable hubbies were babysitting Joe and contemplating having another baby. It was easy to see where this was going from the jump, as it's not exactly something we haven't seen on television before. 
While it wasn't new, it was still funny to see the guys chase after a destructive Joe, while Lily just sat back and enjoyed the show. Lily can be a scene stealer when given the right material and tonight she was on her game. 
Cam: The writing's on the wall.
Lily: But mostly on the curtains.
Joe's destruction was a little too much (for example, where exactly were two adult males when a child was driving a toy vehicle around inside), but it helped Cam and Mitch see that maybe they weren't ready for another baby just yet. Although, the way they looked at Lily and Joe later on pretty much assured us that this season will probably end with Lily getting another sibling. 
The storylines that weren't quite as strong were the Claire trying to get Luke an award story and Haley getting treated poorly by her boss. Claire's quest to get Luke the Integrity award was kind of a dud for me, but I liked how it came back around to Luke not wanting to hurt Manny's feelings. Luke sure has come a long way. 
Can you believe it's almost the end of Modern Family Season 6? Seems like just yesterday this little gem burst into our lives! 
What did you think of "Integrity"? What was your favorite storyline? Will Cam and Mitch adopt another baby? Your regular reviewer will be back next week, but while you wait for her return, drop a comment and let's discuss the episode!
Remember you can watch Modern Family online anytime and keep up with your favorite families!
Whitney Evans is a staff writer for TV Fanatic. Follow her on Twitter.