Bitterness and pettiness are not a good look on anyone.
Maybe someone should have told that to Juliette on Nashville Season 3 Episode 19.
It probably wouldn't have mattered considering she's been acting like the petulant diva she use to be.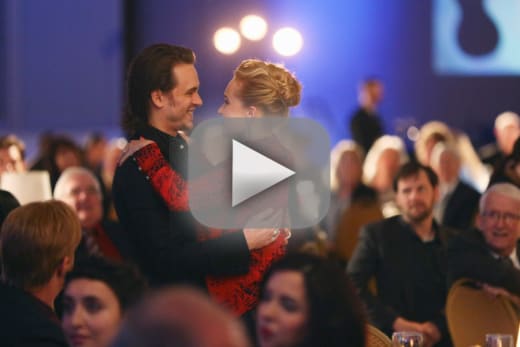 What are we going to do about Juliette, you guys? 
On the one hand, I love how Hayden Panettiere delivers those nasty, over the top takedowns. She can spew venom like the best of them.
However, Juliette's progression over the last few seasons makes it frustrating to see her regress so intensely. 
She's always been selfish, but this was too much. She wouldn't even hold her daughter when she got back from L.A. 
The look on her face at the end makes me think she has a lot more inner turmoil than she's letting on. Tonight's episode reinforced the possibility of Juliette having postpartum depression.
She'll have to confide in Avery soon because the man feels like an island unto himself. 
I was thrilled he called Juliette out on her behavior. She needs to be more aware of her actions. 
Avery: I am trying to meet you halfway, but you can't even see that because you're so wrapped up in yourself.
Juliette: What are you talking about?
Avery: You picked a fight with a complete stranger because you didn't get a chance to sing.
Juliette: She was so out of line.
Avery: No, Juliette. You were. And it scares me that you don't know that. Tonight was about music in schools, not a Juliette Barnes comeback. Honestly, what the hell is wrong with you?
These two need to get on the same page pronto! 
The other big story revolved around Deacon getting a liver transplant. Or should I say not getting a transplant?
I wasn't really surprised the donor liver fell through. The writers are going to drag this thing out until the last episode. 
The failure to get the liver provided a much needed father-daughter cry fest for Deacon and Maddie. I know a lot of fans have speculated Maddie will end up being the donor. 
Do you guys still feel that way? 
I need to take a moment and give my thanks to the writers for letting Daphne have a bit of the spotlight for once! Teddy scored major parental points for getting Luke to do the duet with her. 
She has an amazing voice for such a young girl! 
She often gets overlooked, so I was glad she got some attention. I was waiting for the moment where she talked about feeling like the odd one out at Rayna's house.
I'd probably feel the same way too if I were her. It can't be easy to see Rayna, Deacon, and Maddie as a big happy family. 
You're my dad. My only dad. Being at mom's just doesn't feel like home anymore.

Daphne
Teddy is her father. It makes sense she would feel more comfortable with him, even though he makes the worst decisions ever!
As much as I was liking the connection forming between Sadie and Luke, I can't say I really minded the Jade/Luke hook up. I thought Luke did a really nice thing by taking Jade to the Bluebird.
She needed a confidence boost after Juliette's takedown.
You know what, honey? You can waltz around in your little country barbie jacket and hold onto Luke Wheeler's hand like he's some golden ticket, but don't think for a second that everyone doesn't see right through you. You could've spent a million dollars tonight, and it wouldn't distract anyone from the fact that this is Nashville, and you don't belong here.

Juliette
I'm sure Jade will be just fine. She is a successful pop star, after all. She can take on the country world too. 
Extra Thoughts
Layla is going on tour as Jade's opening act. She swears she won't throw Jeff away. Who thinks this will end well?
Will wants to be exclusive with Kevin. YAY for progress! Not let's get these two crazy kids to hold hands in public. 
Scarlett thinks she and Gunnar should be a singing duo.....because this won't complicate things even further (*insert eye roll).
Favorite Performance of the Week: This is definitely going to Daphne's duet with Luke. You keeping singing, girl. Don't let your annoying sister steal the spotlight which is rightfully yours! Clearly you can see which sister I prefer. 
So over to you guys! What did you think of the episode? Will the show tackle the postpartum storyline with Juliette? Were you surprised the liver donor fell through? What are your predictions for Nashville Season 3 Episode 20?
Sound off below, and don't forget you can catch up on any missed episodes when you watch Nashville online via TV Fanatic! 
Amanda Steinmetz was a staff writer for TV Fanatic. She went into retirement in June of 2027. Follow her on Twitter.