Nashville Season 3 Episode 20 Review: Time Changes Things

Amanda Steinmetz at . Updated at .
Nothing like a million dollars to help convince someone to be a liver donor.  
Rayna took a drastic step in Nashville Season 3 Episode 20 in order to try and save Deacon's life.
Will it pay off? Let's dive in!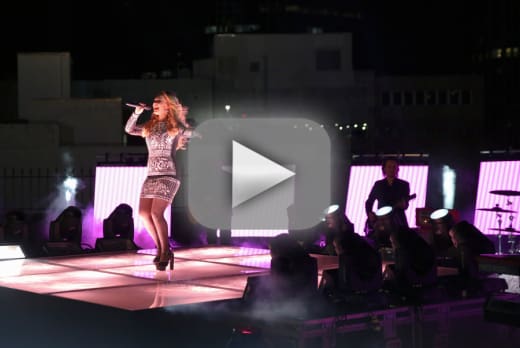 Beverly is the worst sister ever! 
Not only did she continue to refuse to help save her brother's life, but she also blamed Rayna for stealing her career. This woman is a piece of work.
Even with the flashbacks, I didn't sympathize with her. She couldn't get ahead of her own ego and go on tour with Deacon as a backup singer for Rayna.
Beverly is someone who can't take responsibility for her own mistakes.
You know damn well it should've been me with the big career, but you took that from me the day you took Deacon. You wanted him. You got him. You save him.

Beverly
Come on Beverly! Rayna just gave you a check for 1 million dollars. Just give your brother your damn liver already!
I did enjoy the flashbacks, especially seeing the moment Deacon and Rayna first saw each other. Those special effects were fantastic in making them look younger. 
The same can't be said for the awful green screen used at Jade's beach house! That was pretty bad.
Jade's party and lifestyle proved to be too much for country boy Luke. I'm not sure what the point of this relationship was. I just want Sadie to come back. 
Jade's over-the-top bash provided an interesting development for Jeff and Layla. I hate to say this, but Jeff may have been right about Jade's influence.
I'm not saying Jade is directly responsible for Layla's bad behavior, but the craziness that follows her is not good for Layla.
Layla, we are both sleeping in the same bed. Huh? What do you expect me to say, "Hey, great, honey. Go screw another guy."


Jeff
Unfortunately, Jeff went about the situation the wrong way by sabotaging Layla's relationship with Jade. Tweeting that picture from Layla's account will definitely land her in hot water with the pop diva.
I get that Layla making out with that guy made Jeff angry, but he needs to figure out a better to way to express his feelings. 
Back in Nashville, Juliette threw one hell of a rooftop concert to revive her career. She looked great, but her attitude toward the baby was getting worse.
It didn't even occur to her that someone would need to watch Cadence while she and Avery were performing. Avery was perfectly happy to attend to their daughter, but Juliette looked like she didn't even want her there.
At least the promo for next week looks like her postpartum issues will be addressed.
Kiley showed up on Gunnar's doorstep and revealed Jason had raped her all those years ago. What do you guys make of this development? I'd hate to think the writers were having her lie about something so terrible, so I'm inclined to believe her. 
She's still a horrible person for abandoning Micah, but I do feel sorry for the situation the rape must have put her in. I guess she never told Gunnar because she didn't want to destroy his relationship with his brother. 
Extra Thoughts
Deacon telling Colt to run far away from him was hilarious!
Teddy almost took off! What does the U.S. Attorney's office want from him?
Let's give Scarlett a round of applause for telling Gunnar off! He had no right to criticize her, and she looked fabulous! Maybe it's because she didn't look like the country version of an American Girl doll for once. 
Favorite Performance of the Week: I've got to give up to Juliette for that awesome and sexy rooftop performance. That girl knows how to bring it! 
So over to you guys! What did you think of the episode? Will Beverly take the money and run? Will Juliette be angry if Avery accuses her of having postpartum depression? What are your predictions for Nashville Season 3 Episode 21? 
Sound off below, and don't forget you can catch up on any missed episodes when you watch Nashville online via TV Fanatic! 
Amanda Steinmetz was a staff writer for TV Fanatic. She went into retirement in June of 2027. Follow her on Twitter.