Usually one to hold his composure and focus on the task at hand, Callen's short stint undercover with a group of white supremacists led to him having a pretty emotional breakdown after Charlie was taken out by Agent Rand.
NCIS: Los Angeles Season 6 Episode 20 showed the entire gang in action, focused on isolating the threat at hand, but also had a strong emphasis on Callen's mysterious upbringing. 
He owes Hetty quite a lot.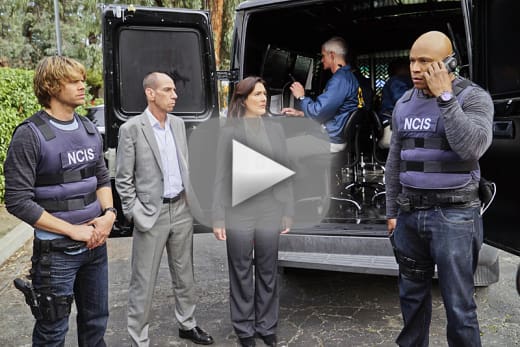 It's always rewarding when we find out more about a character as enigmatic as Callen. His turbulent childhood, and the role of Hetty as a guardian angel of sorts, certainly puts the intensity with which he approached his brief relationship with Charlie in context. He wanted to spread the same kind of hope, and offer the same kind of guidance, that he was once privileged enough to experience. 
Charlie's situation gave him (literal) flashbacks of his own days as a rough around the edges adolescent. And although their situations weren't too similar, he felt a need to reach out.
If Hetty hadn't seen something in him, hadn't throughout to pull him out of his descent and give him the attention he deserves, he wouldn't be where he is today (and he would've definitely been tried as an adult for stealing two LAPD cruisers!). 
Callen: No, Hetty saved me. Everything I am today is because of her.
Sam: Well, you should tell her.
Hetty's influence on Callen seems to run deep, and he should take Sam's advice and definitely tell her more often. Callen should be proud of the man he's become with her help, and not let the situation with Charlie eat at him too much. He did all he could, and so did Agent Rand in the end. There was no other way to assess that situation than the way she did:
Agent Callen, he was a known felon with a gun aimed at a federal agent's head. Are we good?

Agent Rand
I, for one, want to know what exactly Hetty saw in young Callen. For all intents in purpose, he seemed like a reckless kid with no regard for the law. However, it could also be seen as a cry for help. He was intent on breaking free of his constraints, and have someone notice him. Even at that age, Callen didn't want to be faceless, or nameless – he wanted to distinguish himself.
We're lucky Hetty was able to mold that into a force for good. The plots to these episodes would be going very differently if Callen was on the other side of the law. 
I've been watching you, you have great potential. And I have plans for you, Mr. Callen.

Hetty
Speaking of young Callen, how 'bout that young Hetty make up?! I'll admit, I had to do a double take. But only because I couldn't tell if it was well done, or hilariously off base. Regardless of the getup Hetty was wearing, her foresight to rescue Callen is appreciated by all. 
Guest star Rebecca Field did a great job as the white supremacist Dallas's ex-girlfriend, and had one of the few non-Callen scenes that was a standout. Sam also popped in here or there to steal the show, whether it be stealthily knifing someone in the back, or rescuing a gasoline doused Callen. 
Watch NCIS: Los Angeles online and head over to NCIS: Los Angeles quotes for more highlights from tonight's episode, and make sure to leave any thoughts you have down below!
What did you think of this Callen-centric episode? Do you have any of your ideas about his childhood?