That's one way to get free doughnuts. 
We're getting into the final stretch of the season and The Mysteries of Laura Season 1 Episode 18, while somewhat entertaining, fell extremely flat when it came to the case of the week.
It's a bad sign when you don't care about who the murderer is and want to focus instead on Laura's birthday; though the twist with Laura made up for the entire hour.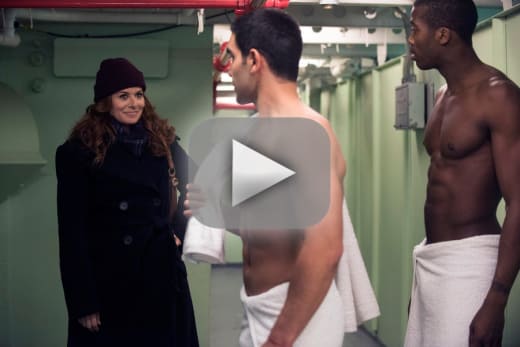 Laura confronting the man who stole her credit card was the best thing ever. Who wouldn't want to confront and arrest someone who stole from them? It's just further proof of how kick-ass Laura Diamond is. Also, you can't fault her for wanting to take the doughnuts with her; though I don't think I could eat them while examining a dead body.
It was so absurd to have Laura think she could get away with going through an officers' cabin on a naval ship. On the flip side you would have thought the officers on board would have been a little more intelligent and not let a detective walk freely around the ship. I know we're supposed to suspend belief, but this seemed a bit far fetched.
Of course Max would feel threatened by the possibility of Frankie taking over the birthday tasks and would try to convince her Laura would be down for a surprise party. I realized tonight how similar Max and Frankie are and could definitely see a great friendship bloom between the two of them, but of course Laura will always come first with Max.
I know Laura better than the soundtrack of Wicked.

Max
This whole formula of the suspect running away from Billy or one of the other detectives every single week is getting tiresome. Yeah it's hilarious in some instances, but to have it happen every single week just becomes predictable and mind-numbing. The person running away is NEVER the killer, so why bother? 
Speaking of Billy, they need to put him and Meredith together already. It was so pathetic having Meredith call Billy over and over again after it's been established Meredith is a strong willed woman who has no qualms going after what she wants. Billy can't be so dense to not see Meredith has feelings for him and has laid out a ton of hints. There comes a point where the woman has to make the first move and it seems the show is heading directly in that direction. 
Regarding the case of the week, the murder of the a sailor was extremely boring and uneventful. I tried getting into the case, but instead found myself more interested in Frankie putting together Laura's birthday. The twists and turns of the case weren't out of the blue and it wasn't a huge shocker to learn the Navy wasn't going to be cooperative.
The best part of the episode was when the whole team broke into Dwayne's apartment and worked together to get the incriminating information. The entire cast works well together and I always finds myself looking forward to them working together on a case. Dwayne being the killer was predictable considering the behavior he displayed earlier in the episode. 
The biggest shock of the night came out at Laura's birthday when it was revealed experiencing what she thought was sea sickness might actually turn out to be early signs of pregnancy; though we have to wait a couple weeks before finding out the truth seeing as The Mysteries of Laura is not on next Wednesday. 
What did you think of "The Mystery of the Sunken Sailor"? Did you feel like it was an off night? Do you think Laura is really pregnant?
Don't feel left behind! You can watch The Mysteries of Laura online anytime via TV Fanatic. 
Samantha McAllister is a staff writer for TV Fanatic. Follow her on Twitter.