This is the kind of episode of Bones that I love most.
Bones Season 10 Episode 19, titled "The Murder in the Middle East," gives us a look at a different culture, and puts our characters in a brand new situation.
It also continues a storyline that we've seen building over the past several episodes, ultimately causing a problem with Booth and Brennan's relationship.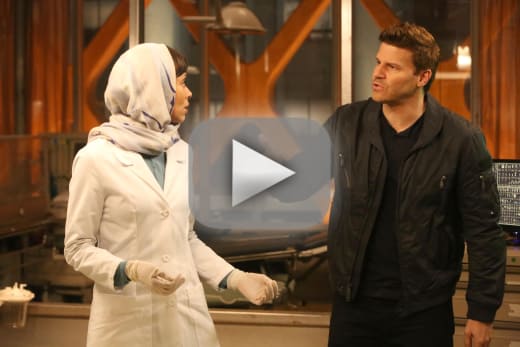 We all knew Arastoo was likely to find trouble for himself in Iran, and of course, just as things are looking up (hey, his brother is doing great!) he's kidnapped while happily talking about ice cream on the phone with Cam. Convenient? Sure.
But it also means an opportunity for two main characters to travel to Iran, and for us to get a new look at Iranian culture.
Television can be great in this way – exposing to us to new places and new ideas we might not otherwise see. This is something that Bones has historically done pretty well, especially by including Brennan's perspective as a forensic anthropologist.
On this episode, specific aspects of Iranian culture become important for the investigation (and for the ways Cam and Arastoo aren't allowed to interact with one another in public).
It also offers a different point of view of a culture that many Americans immediately villainize. What we're shown in the character of Namazi, though, is someone who is willing to change his idea – and maybe more importantly, apologize. The scene when he has tea with Booth, Cam, and Arastoo shows a side of this character we don't expect to see early in the episode.
It also means there is a happy ending for Cam and Arastoo, which not only includes being able to go home, but also a visit to Arastoo's brother who is now on the mend. Oh, and by the way, the brother definitely approves of Cam. I hope we get a wedding for two!
Unfortunately, there isn't such a happy ending for Booth and Brennan. While Booth is away, Brennan gets a visit from Booth's bookie, Jimmy, a terrible human being who threatens children. Brennan learns of Booth's recent gambling and of a large debt that has his family in danger.
Aubrey steps up to help in a big way. He's willing to help Brennan however he can, including threatening Jimmy, and ultimately taking care of getting him that money in Booth's absence. I'm really glad Aubrey is becoming an important part of the team, not just in working, but also in his willingness to do things like babysit Christine and help Brennan. Booth's gambling is likely to mean that Aubrey will become an even more important part of the story.
When Booth gets home, Brennan asks him directly if he's been gambling, and he lies to her face. That's when she calls him on it, and then tells him to get out of the house.
I don't necessarily like where this is going, but I do think it's important for Booth and Brennan to have some sort of conflict. We need that for their overall story, and it will ultimately bring them closer together.
What did you think of "The Murder in the Middle East"? Share your thoughts in the comments below!
Need to catch up on past episodes? You can always watch Bones online right here via TV Fanatic!
Ashley Bissette Sumerel was a staff writer for TV Fanatic. She retired in September 2017. Follow her on Twitter and on Google+.