Ugly, ugly ugly. That's the only word that comes to mind when thinking back over this troubling story.
An unwritten rule followed by many writers is that you can kill or hurt almost anyone, as long as you don't target kids or a pet. This one skirted that rule by a very slim margin.
Some might argue that Criminal Minds Season 10 Episode 23 actually plowed right through the wall of that rule, just because the sociopaths in the story had actually targeted young girls before, and had terrorized and then killed them (prior to spreading their body parts over the Potomac).
The fact that it was so uncomfortable to watch ironically proves that it was well-written, well directed and definitely well acted.
The icing on the cake was the sociopath's choice of mood music as he was preparing his knives for Meg. "Suzy-Q" was just so wrong.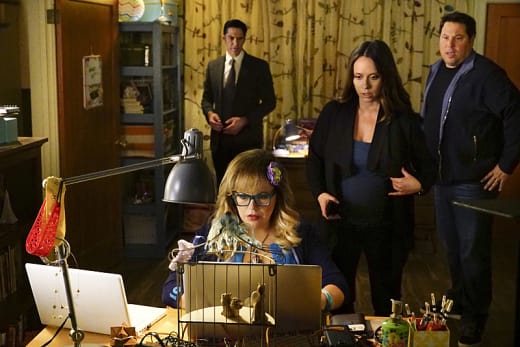 This Criminal Minds Season 10 finale completed the arc that began in the first episode. If you'll recall, in the final moments of that story we saw a woman jogger abducted off the street and shoved into an SUV. Then, the only other reference to that unsub (prior to last week) was Criminal Minds Season 10 Episode 15, "Scream", in which we saw the unsub express frustration when he first attempted to abduct Meg and Markayla.
He finally found success when he sent his son and his.....slave (you can't call her his partner or wife, since she was only acting under 22 years of duress) to kidnap the girls.
While every parent watching this show was on the edge of their seat thinking DANGER DANGER, the girls took their own innocent time becoming aware of their peril. By the time they figured it out, it was too late and they were rendered unconscious.
Other than watching the sociopath do the bullet riddle dance at the end, the only other satisfying scene was watching the FBI do the perp parade roundup.
Though this was only a story, I believe many parents gained a few valuable insights which they might be able to pass onto their children. Notably:
be as calm as possible and be aware of your surroundings.
if you're in the trunk of a car, try to kick out the tail lights. While that didn't work out for Meg, it was still a great idea. Had she not been bound, she could have waved through the hole to any cars traveling behind.
use your wits and play along with the kidnapper as much as possible.
take advantage of any changes in location, such as a hand off point, or opportunities that can arise when the car is stopped.
I doubt many parents would want to coach their children into getting into the mind of a sick sociopath in order to ruin his enjoyment. That move was strictly Kate's to pass on to Meg, given Kate's extensive work in rounding up the scum of society.
The other aspect of the story that made it so uncomfortable to watch was its basis on reality. As the irritating Alex Zorgen put it:
You know what's so great about the internet? It's therapy for sick minds. Before you thought you were alone but now....one click and you realize you've got family.

Zorgen
The man's not wrong. If there's a perversion to be found, you can be sure it has a family on the net.
Speaking of Zorgen: you often hear of actors who pursue some of the ugliest most objectionable bad guy roles, just to have the experience of it. There is no doubt that's what happened with Brian Howe here (he played Zorgen). The man is known for more genial and comforting acting roles. He took this one on full force and it showed. I don't recall a more loathsome monster on Criminal Minds this season.
One noticeable trend with some of the female victims during this season is that they've often been written as strong people who desire to fight back. They're not completely helpless. I like that, just because everyone needs to have a sense of empowerment about their own safety. It's a good call on the part of the writers that they've chosen this direction.
Now we get to the BAU team itself.
A sad but understandable development occurred in the final moments of the show, when Kate gave Hotch a letter and told him she needed to take a year off to care for her baby. Hotch told her the door is open for her to come back.
This mirrors Jennifer Love Hewitt's real life circumstances, as she is indeed leaving the show for that reason, as well.
And of course, JJ has revealed to Reid that she is pregnant too. There is no word yet on her plans relative to the arrival of her little one.
Final notes:
Hailey Sole did an outstanding job playing the tough and aware role of Meg throughout the season.
There was a possible minor plot hole: with all the magic that Garcia manages to do on her computers, you'd think she would have been able to access the deleted data on the girls' laptops. In real life it's possible, though it does take a little time. Maybe we can write that off as "not enough time to pursue."
The story portrayed the chain of events as a series of fortunate breaks, which is the only way Meg survived. That mirrors real life too: the reality is that sex trafficking happens all the time. It's highly organized and therefore rare for any of the women or girls to be rescued.
As always, if you need to catch up on any of the past episodes including this one, you can do so when you watch Criminal Minds online.
Stay tuned: next week we'll bring you our Criminal Minds Season 10 report card.
Now it's over to you. What did you think of the season finale? What are your thoughts on Jennifer Love Hewitt/Kate's exit from the show? Chime in, in the comments below!
Douglas Wolfe was a staff writer for TV Fanatic. He retired in 2016. Follow him on Twitter
.