The Real Housewives of New York City Season 7 Episode 14 Review: Conch Blocked

Christine Orlando at . Updated at .
Ramona was in the zone, Kristen went topless and Dorinda got f-ing crazy over the f-word on The Real Housewives of New York City Season 7 Episode 14.
You'd think that the gorgeous blue water and beautiful sandy beaches would calm anyone. Minus 15 because you'd be wrong. Even in paradise these ladies find a reason to fight.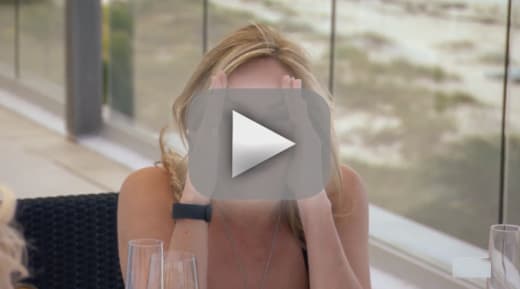 First Bethenny's ticked off because after spending her afternoon making lunch, Ramona and Sonja try to ditch her. Minus 10. Bad form ladies but an annoyed Bethenny was a hoot as they tried to make her talk about her feelings…
I don't care. I don't want to have a therapy session over a lunch.

Bethenny
They ended up staying home and had lunch with only a small amount of therapy needed. However, Bethenny did have to sound a red alert. The vodka was running low! Plus 30 because in the world of Real Housewives, that's a serious emergency. I don't know what's scarier…when the ladies are drunk or when they run out of booze?
Ramona decided she's writing a book (Oh dear god, no!) and needed help coming up with a title which lead to another spat between Heather and Bethenny. Plus 37 because I loved when Bethenny came right back at Heather and didn't back down…
Heather: Sometimes I feel like no one can get a word in edgewise.
Bethenny: Somehow I feel like you can get a word in wherever you want.
Zing! Bethenny's imitation of Heather was spot on…way better than Ramona's attempt to imitate the Countess. 
The ladies all headed to the Conch Shack that night and the rum and tequila flowed freely as Ramona managed to conch block the other ladies in order to get close to the hunky owner, John. They're lucky no one got bruised the way Ramona was throwing elbows in order to get in close and hang on John's bicep. It earned a plus 22 for the entertainment value alone.
The next day everyone called Ramona out on being rude. Kristen and Carole were particularly ticked off. Minus 18 ladies. So Ramona got drunk and blew you all off for a guy. Get over it or as Ramona herself said in this The Real Housewives of New York City quote…
Ok, so I ignored you. Do you want to send me to prison for that?

Ramona
Bethenny ditched the group a day early to head back home to her daughter and I'm not sure if Heather's glee over getting Bethenny's text message was adorable or pathetic. Whichever, it wasn't nearly as pathetic as the fight that followed.
How much did these ladies have to drink before they went out to dinner because LuAnn and Dorinda were blitzed. Minus 25 because they certainly didn't need another round of martinis. You know it's bad when Sonja and Ramona look like the sober ones in the room. 
Dorinda may like her martinis dirty but apparently she likes her language clean as she attacked Heather for using the f-bomb so liberally. Somehow the s-bomb is just fine as Dorinda tore into a drunken tirade that had something to do with their mothers and ended with Heather ushering her away as she broke down in tears. 
I'd say they all need to learn how to hold their liquor but what fun would that be?
Episode total = +21! Season total = -228!
You won't want to miss any of the ridiculous drama, watch The Real Housewives of New York City online here at TV Fanatic.
C. Orlando is a TV Fanatic Staff Writer. Follow her on Twitter.