The Strain Season 2 Episode 7 Review: The Born

Henry A. Otero at . Updated at .
If you've been following my reviews, you know I wasn't thrilled with Mr. Q's introduction.
As of The Strain Season 2 Episode 7, I take it all back people. Quinlan's airport arrival and the fish truck sequence were merely appe"tease"ers for the Barbarian Gladiator's proper debut in the Ancient Roman flashback. Damn, was that intro cool or what?!?
Yes, I'll miss Vaun, and part of me wishes the two characters could have fought side by side, but Quinlan has definitely arrived. Rupert, if you're reading this, I absolutely now feel you've been introduced properly. Cheers mate!
I loved everything about the Gladiator sequence, including the fact the visual style was reminiscent of Spartacus. Quinlan proved to be a total badass, dispatching his opponent without breaking a sweat (or whatever the strigoi equivalent). Only Q's not exactly a strigoi, as we learned from the meeting with his Roman Senator sponsor.
Stephen McHattie is a damn fine actor, but in retrospect Vaun was no Quinlan. I realize fans are still pissed off, and the reasons for the big switcheroo are questionable. Del Toro and Hogan claim they found a much better way of introducing this significant character. Isn't it also possible they wanted to give fans a taste of Quinlan in The Strain Season 1 in case the series wasn't renewed? Either way, I think the anger comes from feeling duped, and nothing more.
Personally, Vaun is a distant memory for me now. I have a feeling Quinlan is this season's Fet (in other words: my favorite character).
Senator Sertorius: You bleed white yet you tolerate exposure to the sun. You are the half-breed. Birthed of human flesh and demon blood. Possessed of Godlike strength and agility. Why do you not escape?
Quinlan: I'm a student of human instinct and behavior. I find I learn best as their instrument.
Dutch's flip-flopping irritated me to no end, and Fet's disappointment was tough to watch. I'm with Fet though; what about the stolen money and laptop? Yeah, bet I'm not the only one looking forward to Nikki's run in with a muncher. With everything going on, did we really need this little love triangle? It just feels so cliché, doesn't it? I'm sounding like grumpy old Setrakian, but leave the romantic nonsense alone, guys. Nikki is going to get Dutch killed, and that's going to suck big time.
Speaking of which, what's Coco playing at? When we first met her, I didn't get the impression she was a gold digger. Has she fallen for Palmer in their ridiculously short time together? Or did the little penthouse incident with the strigoi raise a red flag? She is asking a lot of questions. It's no secret this arc makes my skin crawl, so let's move on, shall we?
I'm not quite sure how Stoneheart managed to contain Eph's bio-weapon. I'm assuming the "friendly hands" mentioned belong to the chief of the National Guard. Yeah the guy that mentioned Stoneheart all lickety-split in The Strain Season 2 Episode 6. I'm glad we weren't forced to sit through Eph's trip back to NYC, and when he called Nikki the "track star" I lost it. Thanks for that, writers!
Okay, back to the fun stuff, Quinlan's run-in with Setrakian and Fet.
Quinlan: The Ancients gave me your name, professor Setrakian. I followed you here.
Setrakian: But who are you?
Quinlan: My name is Quinlan. And you and I have something very much in common.
Setrakian: What's that?
Quinlan: We are both hunting the Master.
Setrakian: You know the Ancients?
Fet: Who or what are the Ancients? What the hell is this guy?
Quinlan slicing that Feeler in half and the thing crawling away reminded me of the well zombie from The Walking Dead. Wasn't it great when he stepped on its entrails to finish the creature off? The Strain series needs more memorable kills like that.
This is, without a doubt, the start of a very important alliance. Even though Mr. Q walked away for now. Wasn't it wonderful learning that Quinlan visited Sardu's Albanian town back in 1873? That one scene easily inserted our new hero into the mythology of the series. As he said, he's been hunting the Master his whole life, and we got a real sense of that.
I asked Kevin Durand his thoughts on Fet versus Quinlan in a special edition of our Strain podcast. After watching this installment, his words became incredibly clear. Give it a listen, we had a blast interviewing Kevin.
It was a bit frustrating Fet blew the building mid-Master/Quinlan confrontation. However, the scene was intense, and I love that Mr. Q doesn't fear his nemesis in the least.
The Master: I have been expecting you. Welcome to the new world.
Quinlan: I see you had little time to prepare your new vessel.
The Master: I chose this host for its loyalty. Something you know nothing about.
Quinlan: It lacks... intimidation.
I think Quinlan's question was a valid one. The Master's siege has made him vulnerable. So much so, in fact, he was just forced out of Sardu's body by a mortal. Is there more to his master-plan than we can understand at this point? No spoilers book readers, everyone else please share your theories in the comments below.
So the Master killed Quinlan's mother. If his nickname was "The Born," shouldn't we assume the Master infected her? Is that where the Dhampir's (half human/half strigoi) hatred comes from? Will we get a chance to witness that scene firsthand via flashback? I hope so, because it sounds like a very interesting part of Mr. Q's story.
Eph claimed to be all out of optimism, but he's certainly got vengeance on his mind. I'm glad Zack finally accepted his mother's fate. The character just comes across as so bipolar this season. He hates his father one minute, then he's all smiley the next. It's just weird to me, guys. Hey, at least he was somewhat tolerable. Eph and Fet sharing a drink was cool, they both need a pal. Will the two become BFFs?
Pretty cool installment, right? What did you think of "The Born"? Did you enjoy learning Quinlan's story? Is he as badass as you were expecting? What did you think of the Master's new body? Is the soap opera stuff driving you nuts? You're up Strainiacs, go ahead and share your thoughts below.
You know you're dying to see that gladiator scene again. Watch The Strain online right here via TV Fanatic.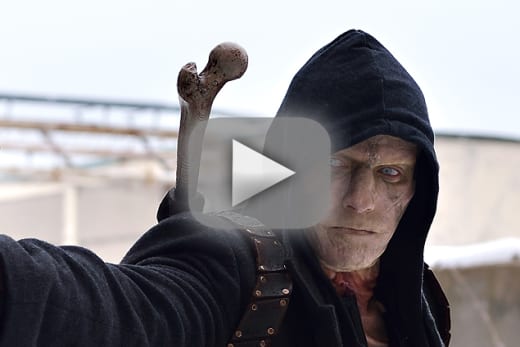 NOTE: The Strain Season 2 Episode 8 is titled "Intruders" and airs on Sunday, August 30.