Barely two minutes into  NCIS: Los Angeles Season 7 Episode 2, all I could think about was how much better this episode was compared to the premiere.
It was explosive, full of intrigue with a dash of humor, which made it great. I was super excited to see Talia Del Campo back in action as she interrogated her partner, Matt, about stolen DEA files.
To make things worse, she watched him die as he was shot, then had to take out the shooter before escaping. Naturally, the first place she thinks to go? NCIS of course!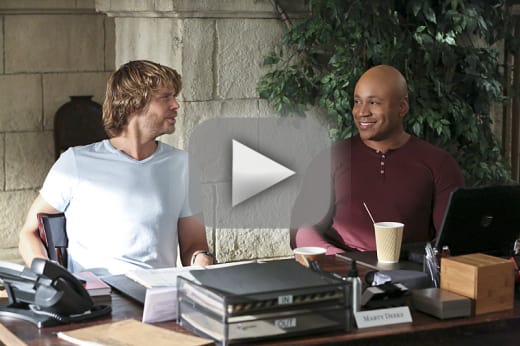 As Kensi and Deeks went to grab Talia, Callen and Sam hit Citadel Behavioral Research, a psychological assessment firm dedicated to analyzing possible government agents. 
They spent six months digging through my life before I got the job offer to work here. Grade school report cards, interviewing neighbors, polygraphs, they did a full body cavity search...of my life.


Deeks
It seems like that may be the only connection between Talia's partner and his shooter. 
Deeks: Infiltrate the most secure intelligence firm on the planet?
Sam: I like to start my week off right
Sam and Callen are tested at the facility as possible operatives with the agreement that one will fail and the other will pass to cover more ground.
Now while I loved the banter over who would be failing, it seemed pretty obvious that it would be Callen, which it was. He fails so badly, he grabs the attention of John Bennett who tells him he's been pushed through despite his low score.
I thought this was a little odd... till it was revealed that Citadel has pushed through many agents who were not right for the job, but had attributes that could be used to Citadel's advantage...and if those agents don't cooperate, it's bye bye to their families.
Meanwhile, things are still kind of awkward between Talia, Kensi and Deeks as they go to interview the wife of Talia's partner. I thought it was sweet how Talia acted with Matt's wife Emily even though they'd never met. As the women searched the house, Deeks decides to take an unconventional route and asks to look at the wife's shoes.
That's right, her shoes. Deek's hunch is right though as they find a flash drive of the DEA's information in the left heel. One problem down. One to go.
All I could think during the team-planning powwow was that they needed to pick up the pace and trap the Citadel's CEO Dr. Wrathburn. Although watching Talia make Deeks uncomfortable at the drop site was pretty funny, what caught my attention was the  shoot-out at the which was very intense and I loved it!
I cheered when I finally saw Hetty, who decided to have a verbal sparring match with Dr. Wrathburn after cornering her in her office. The scene became ten times better when it was revealed that Hetty literally wrote the program that Citadel had been exploiting. 
It's interesting, you administering that silly test all these years, never bothering to ask what HL stood for.

Hetty
Which made it that much better to watch as government agents arrested Dr. Wrathburn.
Throughout this episode, I enjoyed watching Deeks as he tried to act like everything was normal. Even though his phone was constantly going off and his excuse about the plumbers was not working for Kensi.  
Which made it even more hilarious when she remembered that Deek's mother was in town...and staying with him. The meeting between Mrs. Deeks and Kensi was great simply because it was honest and heartfelt.
Mrs. Deeks: You cook?
Kensi: No
Mrs. Deeks: You wanna learn?
Kensi: No
Mrs. Deeks: I like her
Overall, I thought that this episode was so much better then the premiere. The main characters each had equal time in the spotlight (Although I wish we'd had more Hetty.), and it was just more intriguing then the premiere, which did little to hold my interest. This episode though, makes me excited to watch what's next.
Didn't get a chance to watch the show live? Then be sure to watch NCIS: Los Angeles online!
Sarah Parker is a staff writer for TV Fanatic. Follow her on Twitter.