The Strain Season 2 Episode 9 Review: The Battle For Red Hook

Henry A. Otero at . Updated at .
The best part of The Strain Season 2 Episode 9 was the battle. The worst? Nikki drama.
I thought this installment was decent, despite the fact we had to deal with the Dutch/Nikki nonsense. Red Hook really came together to defend their turf, and Justine had her moment to shine. Watching everyone come together was a highlight of the installment.
Fet and Nora seem to be growing closer, which is fine, but a sign Dutch might be on her way out. Would it bother you to lose her? I'm actually more worried about Setrakian at this point. Can this series survive without the cranky old man?
The opening scene started things off on the right foot. "Night owl" Eichhorst hiring a ferry to transport 20 strigoi into Red Hook was a sign the title would live up to its name. Did those 20 call out to the others on the Brooklyn side? Is that where the hundreds that attacked the gate came from? It wasn't clear, but that's how it seemed to go down.
Strigoi get depressed too, and Kelly was feeling down on her luck. I loved the way Eichhorst reassured and comforted her. Richard Sammel continues to steal every scene he's in. So, why was Kelly's cheek peeling off? It's not like she was wearing a mask or something. Didn't they simply apply some skin color makeup?
The new title treatment and music threw me for a loop, but I loved it! Carlton Cuse tweeted "Tune-in to @TheStrainFX to see a special title treatment we commissioned." Was this a one-off thing? Why not use this cool intro at the start of the season? I've given up trying to understand some of the decisions the showrunners make on this show.
Zack uttered his best lines of the season so far.
Fet: Alright, I checked all the window grates. No loose bolts. Place is secure as long as we don't...
Zack: No one does anything stupid, like open the door.
Eph: That creature manipulated you. It's not your fault.
Eph you've seriously got to stop making excuses for the kid. Kelly getting in was absolutely his fault. He should know better by now. I'm telling you guys, The Strain Season 1's smarty pants Zack would have never opened that door. It was nice to see Setrakian go along with the group for once, but I knew he would clash with Feraldo.
Nora seemed tired of Eph, didn't she? Can you blame her? I hated the way he mocked Setrakian's "grandfatherly advice." There was something about the way she looked at Fet that hinted "something more" might be in the cards for them. That also spells doom for the Dutch character. I just can't shake the feeling Nikki's going to get her killed. Hopefully the two go down together.
Speaking of Dutch, it's crazy how much I liked her at the start of the season, yet now I'm indifferent. Nikki is the worst character since Kelly's friend Diane from last season. I wanted her gone so bad. Why did she have to survive the battle for Red Hook? I get it, her existence creates tension. It's just that tension should be coming from the Master, you know? I felt like Nora in that scene. Can't I just wait outside? Ha!
Justine really has been doing her best, but it didn't take long for Setrakian to lose it.
Eph: Councilwoman Feraldo, I work with Nora Martinez at the CDC.
Kowalski: Hey hey, get his ass out of here.
Eph: I believe you know my son, Zack.
Feraldo: Yes I do.
Eph: His mother, she's turned. She got into Red Hook last night. She attacked us. She was made up like an uninfected person.
Mayor Lyle: I thought you told me Red Hook was secure?
Feraldo: It is.
Setrakian: It is not. They'll attack again, in greater numbers.
I hate to agree with Eph, but Setrakian came on way too strong and sounded like a nutbar. We're used to it by now, but the old man should know better. Meanwhile, the ferry docked and Kelly munched on the boat captain. No surprise there.
Once Eichhorst hit the electric substation, it was clear things were going to get interesting. Of course, you also got the sense those UV lights would come back on at some point and fry the vamps. Was there any doubt Fet, Nora and the gang would get the lights back on? The second half of the installment was action-packed and the attack was impressive.
When Setrakian walked away, I was surprised he went to face Eichhorst alone. Not that he can't handle himself, I'm just afraid he's not going to make it. Would The Strain work without Setrakian? Sure we've got Fet and now Quinlan, but I just can't picture the series without ol' Abe.
Justine rallying the troops was cool, but how many people would fight in real life?
People of Red Hook, this is Justine Feraldo speaking. We need your help. Red Hook is under attack. I repeat, Red Hook is under attack. When this plague began, too many of us looked the other way. We hid in our homes and we hoped that someone else would deal with this problem. Now is the moment of truth. No one is coming to rescue us. If we want to survive, we must do this ourselves. Join me and fight for all of us. Don't let these monsters take this from us. People, today we fight or we die.

Feraldo
Why wouldn't the Mayor or Councilwoman call in the military or National Guard? There are too many instances where this situation seems disconnected from the rest of the country. This event alone demands the government send in the big guns. Anyway, the UV lights came back on in the nick of time, and that was that. Didn't things resolve themselves too neatly? It was all a bit anticlimactic.
It was good to see Zack jump when he saw Kelly. It seems the kid finally understands that his mother's a strigoi. Fet got a little too close for comfort with mama bear. Anyone else freak out when the worms crawled close to his hand?
I didn't realize how much I missed Eichhorst saying "A-230385" until this latest confrontation. It was surprising to me that Eichhorst went after Eph instead. What a lousy shot Eph is, damn. Good thing Setrakian's better. All that suspense for Eichhorst to run off.  
Well, at least that's one win for the good guys. What did you think of "The Battle For Red Hook"? Did you miss Quinlan? Did Justine taking charge impress you? How about the UV lights coming back on? A little too easy or what? You're up guys, go ahead and sound off in the comments below.
Relive the big Battle for Red Hook anytime! Watch The Strain online via TV Fanatic.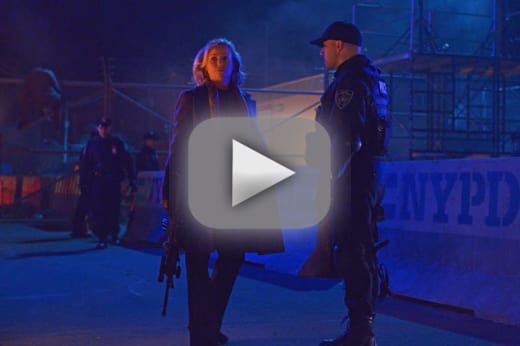 NOTE: The Strain Season 2 Episode 10 is titled "The Assassin" and airs on Sunday, September 13.