Blue Bloods Season 6 Episode 4 Review: With Friends Like These

Christine Orlando at . Updated at .
I pondered many questions while watching Blue Bloods Season 6 Episode 4 such as, Can a gun look that clean after spending 15 years on a rooftop? What happens when a witness flees WITSEC? And who do you call when the idiots having the brawl are members of NYPD and FDNY?
Let's start from the top. The moment those two cops showed up with that gun in the bag I thought they had to be kidding. Did Erin really believe that after 15 years, they happened to uncover the gun from the cold case she had just reopened?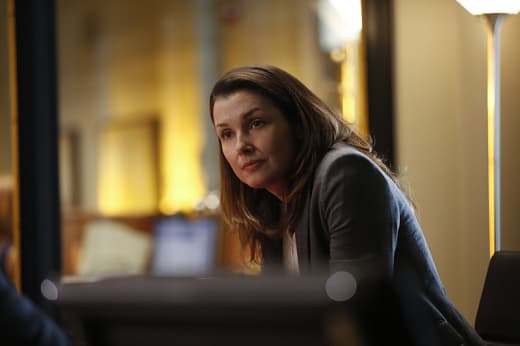 That seemed like a huge piece of luck, a completely unlikely coincidence, or one of them was a dirty cop. 
Unsurprisingly it turned out to be the latter. The biggest twist in the case was when Vincent turned back up in Erin's office after being shipped to Iowa via WITSEC. Apparently Iowa was too boring for the old mobster. He wanted to come back and was able to give the current mob boss an alibi if they took the price off his head. 
But the bigger question is, can Vincent actually trust his new deal? Who's to say the mob doesn't kill him for being a rat after he gives his testimony and now that Brock is being prosecuted for the murder, Grassioso doesn't need Vincent around at all. 
Frank had his own issues to deal with as the NYPD and FDNY started throwing punches in a city ER. There was obviously way too much testosterone and not nearly enough brain cells in that room. 
The NYPD and FDNY have always had a rivalry, but at what point does it begin to put the citizens of the city at risk. I found it really disheartening to see that fighting even colored the relations between the commissioners. 
Jamie and Eddie's story was the most compelling. Just how much training do NYPD officers receive on recognizing and handling the mentally ill? They aren't necessarily criminals but, like Jenny wielding that knife, could be equally dangerous. 
The truth is that there are too few resources to make a dent in the problem but that shouldn't mean everyone just throws their hands up in the air and walks away. As Jamie told Danny in this Blue Bloods quote…
Danny: Can't save everyone.
Jamie: We can try.
I appreciated how Eddie told Jamie that she would have shot Jenny if things had gone wrong. As much as I wanted Jenny to get help, in that moment it would have been Eddie's job to protect her partner. 
Jamie may not have been able to save Jenny but perhaps her death can help bring about change for others. With Frank's help, Jamie could be the person to make a difference. 
This was the first Danny-light episode this season. Did you miss having him front and center?
Check back next Friday for our review of Blue Bloods Season 6 Episode 4, and if you want more of the Reagan family, you can watch Blue Bloods online here at TV Fanatic.
C. Orlando is a TV Fanatic Staff Writer. Follow her on Twitter.