Jane the Virgin Season 2 Episode 2 Review: Chapter Twenty-Four

Amanda Steinmetz at . Updated at .
Jane's a new mom, her baby was kidnapped and returned in one night, and she has two men vying for her love.
It's safe to say Jane has a lot on her plate these days.
On Jane the Virgin Season 2 Episode 2, Jane avoided making a decision between Rafael and Michael, while also envisioning herself as a Bachelorette contestant and constantly worrying about Mateo's safety.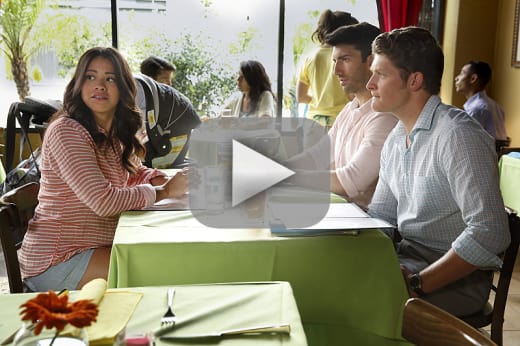 I was a little skeptical when Bachelorette Jane showed up. I thought the concept would get old quickly, but this hallucinatory alter ego was hysterical.
Jane's love life is complicated, and the writers were smart to compare her situation to an episode of The Bachelorette. Everything from her outfits to her commentary to Rafael's and Michael's confessionals were perfect. 
Bachelorette Jane: I'm just so confused. I mean, when I was with Michael I can see myself with him, but then when I was with Rafael...
Jane: What are you doing?
Bachelorette Jane: A confessional. So I can work out my feelings. I mean, we have to decide who to give the final rose to, and who to say goodbye to.
Jane has a tough decision to make because Michael and Rafael are both good men. Even though I'm on #TeamMichael with Xo, I could still see Jane ending up with Rafael.
However, I feel like this episode spent more time showing Jane's relationship with Michael due to all the scenes in the present and the flashbacks showing the time she went camping with Michael and told him about Alba being undocumented.
Jane will have to make a decision, and I hope it's sooner rather than later. I don't want to see this love triangle go past its expiration date.
Now on to the big reveal of the episode: Petra has Rafael's bun in her oven!
The show is taking a big risk by making another character pregnant, but I'm looking forward to this development. Rafael's reaction to the news that Petra took his last sperm sample was priceless.
You know what? This is too good. I got to see it again. Instant replay style in slo-mo. Notice the lip snarl of panic and rage, the raised eyebrows, the bulging eyes. Yes Rafael, you are the poor sucker.

Narrator
I'm just wondering if Petra will actually have the baby or if the storyline will go in another direction. I can't picture her losing the baby on this type of show, but you never know.
It will also be interesting to see if this baby brings Petra and Rafael back together romantically. All I know is that Petra will have a lot of explaining to do in Jane the Virgin Season 2 Episode 3. 
Even when the show is being silly, there are always moments that tug at your heartstrings. I'm glad the show didn't make everything go back to normal after Mateo's kidnapping. It's expected that Jane would have anxiety about Mateo's safety, and her visions of Rose everywhere reflects her fears of losing Mateo again. 
I'm also happy that Alba will take the steps needed in order to get her green card. You could see the fear in her eyes when the police were in her home. 
Extra Thoughts and Questions
I could have done without the stunt casting of Kesha. The part was so miniscule that they could have just cast a regular actress in the part. Although, if I had to pick Kesha having a big cameo or a small one, I'd have to go with the small one. 
What is the point of kidnapping Luisa? 
Is the mysterious woman we're seeing simply Sin Rostro after another surgery? 
I'm glad to see Rogelio and Xo in a good place at the end of the episode. Will they be able to take things slow? 
So over to you guys! What did you think of the episode? Hit up the comments below, and don't forget you can catch up on any missed episodes when you watch Jane the Virgin online via TV Fanatic!
Amanda Steinmetz was a staff writer for TV Fanatic. She went into retirement in June of 2027. Follow her on Twitter.