The Big Bang Theory Season 9 Episode 3 Review: The Bachelor Party Corrosion

Ashley Bissette Sumerel at . Updated at .
It's bachelor party weekend, nerd style! Well, almost.
On The Big Bang Theory Season 9 Episode 3 Howard and Raj kidnap Leonard (and Sheldon) for a surprise bachelor party weekend, and the girls have a get together of their own.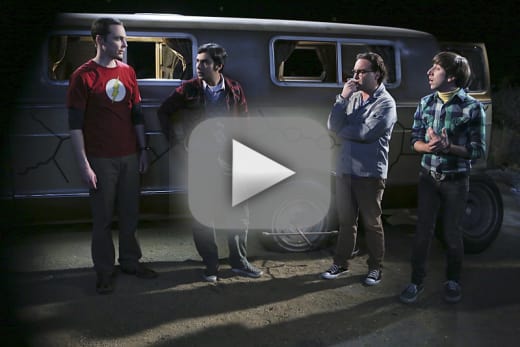 Unfortunately, the guys have trouble making it to their final destination. So, not only did we as an audience not quite get the wedding we wanted to see for Penny and Leonard, but we also didn't really get the bachelor party – which could have been hilarious.
It seems like an exercise in missed opportunity, and ultimately, it falls flat.
That's not to say this whole thing isn't pretty appropriate. The guys take off on a science themed adventure to Mexico, only to be beaten by a flat tire. It's a chance to see our original four nerds working on something together again, and their insistence on using scientific principles to change a tire is exactly the sort of thing that makes these characters fun to watch.
In a lot of ways, it's bringing us back to basics. And Sheldon busting out the lyrics to Queen's "We Will Rock You" has got to be one of the funniest scenes I've seen on this show in a very long time.
Of course, their insistence on using science to change the tire gets out of hand, and their efforts go up in flames. Literally.
The bachelorette party also feels like a let down. It has promise, what with the penis cookies and the talk of a make-over for Amy, but it remains relatively uneventful. What I do like is the dynamic between the three ladies, and the fact that we learn a little more backstory about Amy.
Boy if my mom could see me now, she'd lock me in the sin closet.

Amy
The pierced ears are a great start in seeing some sort of change for Amy, but I'd love to see her get a full on makeover sometime – even if it doesn't stick.
It's also nice to see a more light-hearted episode. We've left the relationship troubles behind for Penny and Leonard, and Amy and Sheldon seem to be making decent efforts at moving forward. Perhaps what works the best is that the groups are separated. The guys have one storyline, while the girls have another.
We also aren't overcrowded with characters, though you do have to wonder how Stewart will feel when he learns he wasn't invited to the bachelor party. Oh, well.
What did you think of "The Bachelor Party Corrosion"? Share your thoughts in the comments below!
Need to catch up on past episodes? You can always watch The Big Bang Theory online right here via TV Fanatic.
Ashley Bissette Sumerel was a staff writer for TV Fanatic. She retired in September 2017. Follow her on Twitter and on Google+.