The Leftovers Season 2 Episode 2 Review: A Matter of Geography

Carissa Pavlica at . Updated at .
This was a fantastic hour of the series.
The way The Leftovers Season 2 Episode 2 wrapped up the Garvey family's storyline in Mapleton and followed them to Jarden worked out so well, and it was really needed in order to free them from their ties to other characters so they could get a clean start in the new town.
Although once they arrived in Jarden, things certainly didn't go as they planned.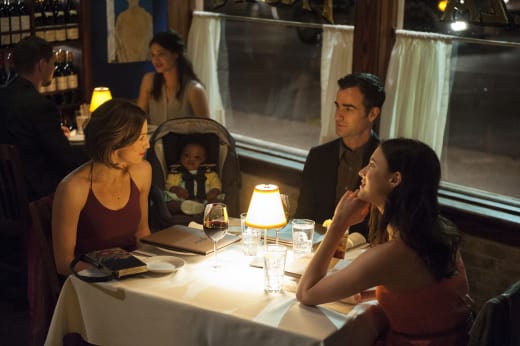 The series reboot is getting such a terrific start. So far there isn't a single thing I would change. The Leftovers Season 2 Episode 1 introduced us to the Murphys, and while after meeting them I thought I could go on all season without ever seeing an old character again, getting reacquainted with the Garvey clan was better than anticipated. 
There were so many different avenues the story could have gone on this road to Miracle (or Jarden), but the one taken feels organic. 
Kevin, Nora, Jill and Lily became a family before anyone got hitched, but Kevin was always a quiet one. He let the stress get the better of him, even after he was walking the walk and being a somewhat ideal father to new baby Lily and man of the house for the women who love him. He cracked. 
I'm glad they addressed Patti's body, freeing Kevin from that obligation lawfully. He's one lucky SOB. But it appears Patti is here to stay, as he cannot free himself from her in his mind. Honestly, she's not a bad spirit to have on his shoulder. She's funny and has some pretty keen advice to give the guy. 
The storyline with Kevin's father was also wrapped up, as he was released from the nuthouse. It was as simple as doing what they expected of him. You gotta love that line of thought. The two parted on good terms, with Kevin receiving his father's blessing for his new family. Their chat was one for the memory book.
Nora selling her house also added some context to the Sudden Departure, as it was wanted for scientific purposes. The folks at MIT believed where you were at any given moment determined whether you were taken, and fully expect it to happen again. Ominous. Getting about $2.6 million for her house also meant that when things went awry in Jarden, they could land on their feet.
We witnessed Jarden from the perspective of the townspeople already, but as a new resident, well, things looked a lot worse. John Murphy burned down the house the Garveys were going to rent and for that, he got a new neighbor. People will do pretty much anything to live in a place where there were no departures in their quest to feel safe, and she paid a cool $3 million for the honor.
Pets have to be quarantined, wristbands worn to ensure you're where you are supposed to be; the rules for visiting and living in Jarden are pretty strict. Kevin's idea of a trial run were shot when their rental was gone, and in the heat of the moment, Nora bought the house at auction. She was all in without even discussing it, throwing Kevin into a panic.
The house was a bit of a pit on the inside, and it didn't take long for Kevin to run into trouble since he was so tightly wound. We quickly discovered why why Kevin had a Band-Aid on his forehead at John's birthday party and Patti shared her thoughts on the Murphys.
Very interesting family, those Murphys. Hard to tell if they're part of your story of you're part of theirs. I'll see you when you get home, Kev. I'm not going anywhere!!

Patti
Kevin is running from demons. He can't stand silence. When Patti's not talking over his shoulder taking up dead space, he jams his headphones into his ears. The stress is definitely eating away at him.
It's eating away at Nora, too, who only bought the house because of her need for security. She may have a new family and two daughters, but learning that there could be a Sudden Departure again at any time hardly made her feel safe, and she needs that feeling of safety. She needs to know that if it happens again, she won't be affected, or if she is, she will go, as well.
Only Jill is holding up the family, the teenage daughter who lost her mother, still unable to read a letter from her when she receives one. 
But these three are about to discover what the promos have warned along. There are no miracles in Miracle. 
They've already seen where Matt lives, in a lean-to or garage. Hearing him brag about indoor plumbing and getting to use the main kitchen every once and again wasn't a selling point. Yet he wasn't willing to move in with his sister. Why is that? What's holding him back, really? I don't believe it's just working for the church.
When The Leftovers Season 2 Episode 1 ended with Evie Murphy and her friend missing and the lake drained, that seemed like a big enough mystery for the season. Discovering Kevin was at the bottom of it, with a cinder block tied around his ankle weighing him down? Uh oh indeed.
Maybe there are miracles in Miracle, and maybe Kevin is responsible for what happened to Evie, but only because someone tried to kill him and some other miraculous power (this season seems big on supernatural things so far, and I'm diggin' it), decided the punishment would be to save Kevin at the expense of the town. Perhaps nature has had enough of their barbaric ways of saving themselves over all others. Has geography caught up with them?
I have no idea, but holy moly, how can you not be intrigued by what's happening right now? Suddenly The Leftovers has become one of my most anticipated programs of the week. What about you?
While you're thinking about what's next, prepare for more of Laurie and Tom, because their story is going to be told in some detail on The Leftovers Season 2 Episode 3. It's pretty good stuff, too! 
Carissa Pavlica is the managing editor and a staff writer and critic for TV Fanatic. She's a member of the Critic's Choice Association, enjoys mentoring writers, conversing with cats, and passionately discussing the nuances of television and film with anyone who will listen. Follow her on Twitter and email her here at TV Fanatic.