Is Chicago the shade capital of the world? 
On Chicago Fire Season 4 Episode 7, the case against Boden got much more serious, and it looks like we could be losing him. This case has obviously been fabricated. We know that, Firehouse 51 knows that and so does Riddle. 
You'd think the members of 51 were evil or something. They get questioned about the way they do their job, yet still manage to save a lot of people. Even when morale is low, everyone still remains together and that rung true in the scene with Boden and everyone around him at the end of the hour.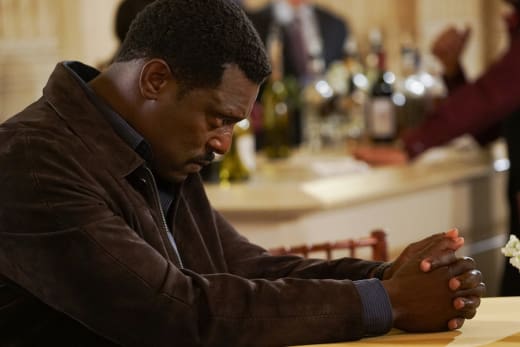 At this stage, I wouldn't be surprised if he resigns. Too much has happened to him and this could be the icing on the cake. I can't begin to imagine how the guy feels. Donna must be stressed out. She's clearly stressing out that they could be apart for 30 years. That home invasion charge will be devastating if that's what he gets. 
He needs to lay low and let his team look out for him. He's not doing himself any favors whatsoever by investigating everything himself. That move he pulled enquiring about the camera was just plain reckless. I understand it's not a pretty situation to be in, but he's going to have to let someone else help him out of this one. 
Did anyone else want to give Voight a standing ovation when he showed up? I was so happy to see the reaction on Riddle's face. He was pissed. What I don't get is why people want rid of Boden so much. He does a stand up job, and he's the gel that keeps 51 together. Can you imagine Patterson running the thing? He'd have no staff at the rate he suspends people.
One thing you can't take away from 51 is that they are a loyal bunch. I absolutely loved when Gabby stood up for Boden and threw some shade at Patterson. I thought it was going to lead to her being suspended, but then Casey politely reminded Patterson that Gabby isn't his candidate. 
Even after all of this, Patterson is going to be a firm fixture in 51. He's a character who will benefit from a redemption arc, and it looks like he's getting that based on the final scene he shared with Severide. 
I pegged Severide to be the type of person to let rip about Patterson's past, but he proved how mature he can be. That's if he's going to keep quiet about what information his father got for him, which seems very likely right now, but add in some angst and Severide can be one hot-headed person. 
"Sharp Elbows" was a solid effort from the NBC drama. It is a bit annoying that there's always going to be someone going after our favorite characters, but this is a drama after all, and you can bet you're bottom dollar that I'll have front row seats to Riddle's demise when it occurs.
Other tidbits from the episode:
Otis pursuing Brett felt like a retread of Chicago Fire Season 3 and that was cumbersome. Stop. Now. Also, shame on you, Otis!
Did anyone else have to look away at the scenes with the window? It was nauseating, to say the least. 
Donna, where you been? It's time for you to leave Beacon Hills behind and become a permanent resident in Chicago!
Will Benny be able to get his son out of everything?
Over to you, Chicago Fire fanatics! What did you think of "Sharp Elbows"? What's coming up with the Boden storyline? Hit the comments below!
Remember you can watch Chicago Fire online, right here on TV Fanatic. Get caught up on this addictive drama now!
Note: Chicago Fire Season 4 Episode 8 airs Tuesday December 2 at 10/9C on NBC.
Paul Dailly is the Associate Editor for TV Fanatic. Follow him on Twitter.