Doctor Who Season 9 Episode 9 Review: Sleep No More

Henry A. Otero at . Updated at .
I love Mark Gatiss, but this episode might have been a tad too ambitious.
Doctor Who Season 9 Episode 9 was billed as a "terrifying story assembled from [found] footage." I don't know about you, but I wasn't scared for a single second. Then again, I watch way too much Walking Dead and American Horror Story.
The episode wasn't a total bust, there were a few fun moments. It was different for Who, I'll give them that, but I wouldn't say it's a favorite of mine this season. Share your thoughts with me in the comments below.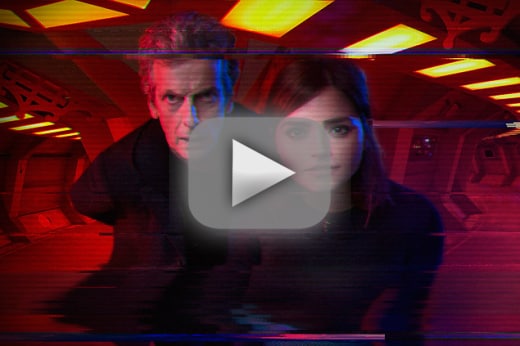 While I enjoyed the "found footage" approach, I must confess I missed the Doctor Who theme/intro terribly. Agents of S.H.I.E.L.D. Season 3 Episode 5 recently tried something similar by swapping out the opening logo for Simmons' flashback installment. That show doesn't have a theme song, so it wasn't a big deal. Sure, Capaldi's all too familiar voice soon made its way into the footage, but without the Who theme something just felt off.
Professor Rassmussen holding our hand through the exposition painted almost too clear a picture. The installment might have been scarier if there was more left to our imagination as with Chronicle or Cloverfield, for example. Don't get me wrong, the Sandmen were creepy ass monsters just not terribly scary.
Nasty that they were made from "sleep dust" (mucus discharge). Clever Mark Gatiss, but Eeeew!
Anyway, we were briefly introduced to the rescue crew and warned "don't get too attached." Amusing, right? I took his advice.
They came to find me. This is my station. My lab. I've pieced together the rescue as best I could.

Rassmussen
Listening to Rassmussen speak, I quickly got the sense this was a Dr. Jekyll/Mr Hyde, or kooky mad scientist tale. I didn't trust the guy from the moment he popped out of the Morpheus pod. Anyone else get the sense Rassmussen wasn't what he seemed?
While a bit predictable, the background and history Gatiss created here was incredibly interesting. What was with the Doctor sucking his finger to figure out what century they were in?
The use of the Chordette's Mr. Sandman was a neat touch. That song never fails to remind me of Back to the Future. It took on an eerily monotonous tone after a while. Deep-Ando "doing the song" was slightly amusing, but was there any doubt he'd be the first to go? Not so much. The scene with the gravity shields failing was not only irritatingly shaky, but too damn loud to understand the dialog.
I tend to tune out when I can't understand what the hell characters are saying.  
This is the ninth episode and the sonic shades are still around, ugh!
Nagata: What are you doing?
The Doctor: I've hacked into your helmet-cams.
Nagata: What?
The Doctor: Reviewing the footage. There's something not right here.
Nagata: We don't have helmet-cams.
According to the Doctor, Rassmussen was killed in that loud, shaky scene. I totally missed it, how about you? I thought it was funny when several minutes later the Doctor realized there were no helmet-cams. Capaldi's look straight into the camera was priceless. Rassmussen reappearing was unexpected. Yeah I was already confused.
So, the Doctor let the monsters into the fridge because he figured out the sandmen were blind. It was the dust that was watching and delivering the video feeds. Don't look at me, I'm still trying to understand it all.
We knew 474 and Chopra wouldn't make it, but Rassmussen finally came clean.
You can't fight them Doctor. There's no point. They're the future. A new life form. A better life form. It's very clear to me now, they made me understand. And we're to be their food.

Rassmussen
In the end, Rassmussen was spared by the monsters because he'd agreed to get them off the station to infect others. Well, until Nagata shot and killed him. Then he popped up in the footage again... What?!? The Doctor and Clara took off in the TARDIS in the nick of time, but the footage itself contained a signal that infected the viewer. Including each of us. Got all that? Yeah me either.
This was the first installment this year that wasn't a two-parter. I'm not sure the found footage format would have worked for two episodes. It kind of grew old quick. Anyway, this was a strange one, but I'm excited that Maisie Williams is back next week as Ashildr. Is this when we'll finally bid farewell to our dearest Clara? I'm dreading that moment, aren't you?
What did you think of "Sleep No More"? Did you predict Rassmussen was up to no good? Did the sandmen scare you? You're up guys, sound off in the comments below Whovians. Keep an eye out for our Doctor Who Round Table later this week.
Still confused? Well, please feel free to watch Doctor Who online via TV Fanatic see if that helps.
NOTE: Doctor Who Season 9 Episode 10 is titled "Face The Raven" and airs on Saturday, November 21.