Who knew fly fishing was so therapeutic?
On Madam Secretary Season 2 Episode 6, they took on the very real subject of ISIS. It was extremely chilling watching the video sent to President Dalton, but I can't say I'm surprised the show decided to tackle this subject. Meanwhile, Dmitri continued to unravel, but we'll get to that in a bit.
Let's dive right in and discuss, "Catch and Release."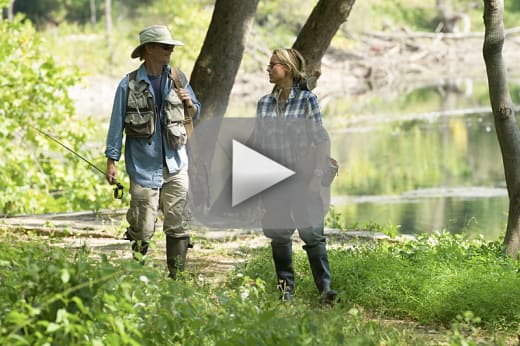 It was nice seeing Elizabeth and President Dalton on the same page when it came to ordering all the aid workers back. This season has been a back and forth game where the administration is either completely behind Elizabeth or staunchly against her. I was also on Elizabeth's side in not releasing Adam's name to the public because it wouldn't have done them any good.
Speaking of President Dalton's administration, who else was thrilled when he went off on Russell? There comes a point when it isn't about the political side, and President Dalton finally had enough. He had every reason in the world to be angry because people were being brutally killed. I was happy to see him show some emotion and tell off Russell.
I couldn't help but feel a little bit of sympathy for Adam's mother, Judith, because she was a woman wanting to help her child. Judith didn't know in what Adam was involved and there's always going to be a part of her that will love her son unconditionally, but Elizabeth could never promise Adam's safety. Adam gave up any and all safety nets when he joined ISIS and went against his country.
Of course Elizabeth had the added bonus of dealing with her brother, Will, along with the ISIS situation. It was actually pretty comical listening to the siblings bicker because it showed how alike they are. Both of them are so stubborn and set in their ways. I give Elizabeth credit for trying to meet her brother on his level, but she should have let him know she would be using the information he gave her to help with the Adam case.
Switching gears to Dmitri, going into Henry's office and trying to get help for Ivan for a pretty bold move. Dmitri knew what would happen to Ivan the moment he got back to Russia. I can't blame the guy for trying to be there for his friend and get him some type of help. Dmitri did bring up some pretty good points while talking with Henry.
Dmitri has no one in America except for Henry and he feels like Henry is the only one he can turn to. The only way Dmitri could get help for Ivan was if Henry was able to pull some strings. On the other hand, I understood why Henry was reluctant to help because Ivan is a proud Russian who could easily view Henry's offer as a form of disrespect for his country.
The moment Dmitri brought Henry into the dorm to persuade Ivan to stay, I knew Ivan was going to take his own life. To Ivan, his reputation was everything to him and he knew, going back to Russia, his family would become a disgrace. Ivan felt like he had no choice but to shoot himself, which is a heartbreaking shame. I wish he would have listened to Dmitri and Henry and tried to find a way out of going back to Russia.
In the end, they were able to track down Adam thanks to Elizabeth's brother. I understood why President Dalton decided to take Adam out instead of capturing him. Had he decided to send in forces to capture Adam, he would be risking so many lives, and Adam could have possibly escaped.
What do you think is going to happen when Dmitri unravels? Did you agree with Elizabeth's brother when he generalized her job?
Don't feel bad if missed out! You can watch Madam Secretary online now via TV Fanatic anytime. Just make sure to come back to let us know what you think.
On Madam Secretary Season 2 Episode 7, Elizabeth lobbies for approval to revoke the United States embargo against Cuba. Will the Senate agree to lift the embargo? Find out Sunday, November 15 at 8:30/7:30c on CBS. 
Samantha McAllister is a staff writer for TV Fanatic. Follow her on Twitter.