Bitten Season 3 Episode 2 Review: Our Own Blood
Carissa Pavlica at . Updated at .
Would a Wolf be able to sense their own family, suss out danger if it was sitting across from them?
I'm not sure we have enough experience with blood bound Wolves to make that determination, but Elena found her actual Wolf father on Bitten Season 3 Episode 2 (or so he says), so knowing this information sure would be helpful.
Especially because Roman Navikev one of the people who has had Sasha Antonov on the run for 30 years, and he just so happens to arrive at Stonehaven in time to remind everyone of his brutality when Eduardo's life is being taken.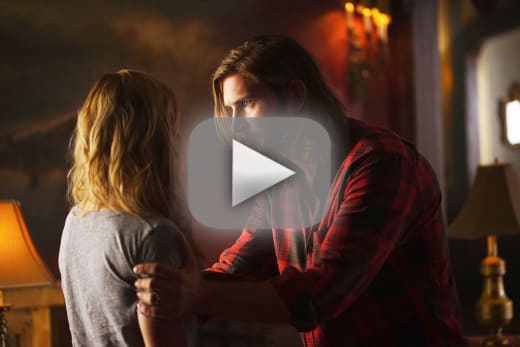 Elena has loved the sense of family the Pack provided her because her own family was taken from her at such a young age. If Sasha, Katia and Alexei are really her blood family, they're news to her. 
Otherwise, you can probably rest assured Elena would have been tracking them down with everything she had to give.
Was it made 100% clear if they're Wolves born? Was Elena born into a pack of Wolves? Is that why she was the first female to survive the bite such as she did? That would explain a lot. 
Her "father" Sasha arrived looking for her with two children, but only his son was turning for the first time. Does that mean he's been bitten, or that he was turning for the first time by blood? And that Katia would be next? Are we about to be introduced to a new chapter in the werewolf lore?
In my interview with Greyston Holt (Clay), I asked him if there might come a time a male and a female could rule together. He hadn't heard that theory before. But with this newest development, it makes even more sense, doesn't it?
The Wolves have always pushed women away, never allowing them to be a part of their children's lives. As such, they grow up with a keen sense of loyalty to the Pack, but very little in the way of softer emotions or an understanding compassion and grace. It's only when women come into their lives (which isn't very often), they find these things.
Clay is a unique Wolf because of the love he has with Elena. He's been able to put his violent tendencies behind him. The other in the Pack are starting to do the same. Logan fell in love, real love, and was going to leave the Pack to be with Rachel. Instead, she remains alive, caring for their child while Nick cares for her.
Slowly but surely, Elena's presence is having an effect on them. Maybe she is some sort of destiny for the Wolves, far more than we ever realized.
Of course, that's all assuming what Sasha said is true. That he is Elena's father and he's been on the run. It's hard to imagine why any one Wolf would spend years tracking another. But Sasha said Roman killed his wife, and they had been running ever since. What more could Roman want?
Also, why NOW did a witch finally find a trail to them? Was it because they were near Elena?
To be honest, it's probably no reason other than for storytelling purposes, but I think of these things. 
If Roman's rage for Sasha was taken out on Eduardo, then God bless them all. That was brutal. He didn't just cut off Eduardo's head as Jeremy requested, but chopped the poor man to tiny bits. He savagely diced any remaining identifiable piece of Eduardo.
What on earth could make Roman so violently angry?
By the same token, if Sasha is lying, what is it he can gain from the sole female Wolf that is so important to him he's willing to lie to Elena to get it and risk his family being near to that madman Roman? Roman already killed his children's mother right in front of them. Why risk Elena?
But given Eduardo's speech before he died, one that only Jeremy and Roman could hear, I'm betting on Sasha telling the truth.
Taunting Jeremy that his family is only one he has built. Nothing is real, his children are not his blood and upon his death? Nothing of him will be left behind. He lived a lonely life that will be forgotten in death. OUCH. 
Jeremy returned a quip, but you could see the pain in his eyes. 
This is shaping up to be a great season about family and what it means to a Pack when all of your members are sworn in instead of born in. Maybe that's why Jeremy hasn't killed Rachel yet. His hard line with the Mutts is causing him to take a soft line with the mother of their only child.
I'm intrigued. It feels a lot more intimate than Bitten Season 2 began. What do you think? If you need to catch up, watch Bitten online and then come back and comment. This is getting good!
Carissa Pavlica is the managing editor and a staff writer for TV Fanatic. She's a member of the Critic's Choice Association, enjoys mentoring writers, cats, and passionately discussing the nuances of television and film. Follow her on Twitter and email her here at TV Fanatic.