Personally, I'd rather be an indoor cat and sleep all day, but I guess it could get a little boring.
On Scorpion Season 2 Episode 16, Team Scorpion is split up due to an earthquake that rocked Los Angeles. Hands down the most entertaining pair is Ralph and Sly.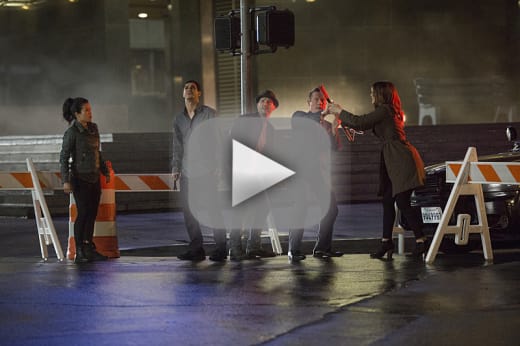 The two of them work nicely together, and their dynamic is highly entertaining. They bonded over being inside cats who want to be more adventurous.
Anytime Ralph is involved in the case, it automatically becomes more entertaining. It's a proven fact.
Ralph and Sly haven't really spent a lot of one on one time together, so it was amazing to see these two in action where Sly has to rely on not only Ralph's brains but his eyes too. Ralph was creepily calm in all of these situations.
It was also amusing to see Sly comfort the civilians who were a little apprehensive about Ralph contributing ideas. Dude, you are stranded and trapped. You can't be too picky when it comes to the nice people who stop to help you. 
The team being split up was actually a great thing for this case because it made things more interesting and fun. It also allowed for everyone to have a chance to shine because often times Walter's the one making all the game saving deductions.
It wasn't Walter who figured out how to get the lady out of the car or how to save those people trapped in the taxi. The separation allowed everyone to step up their game, but as always, Team Scorpion had each other to lean on for support. 
We also got to explore relationships more. It's always fun on ensemble shows to mix up the partnerships, and this hour proved just that. We got to explore dynamics that we normally don't see all that much, and it allowed Toby and Walter to work on their issues.
Before delving into their issues, can we just talk about how amazing therapy was? I'm going to need to see more of their sessions. There was singing, and it was terrible and highly amusing.
Not only that, but Walter and Toby definitely need therapy. It actually wouldn't be a bad idea to put the whole Team Scorpion group into therapy every now and then.
Walter: I'm sorry.
Toby: Huh?
Walter: Whatever I did that made you so mad at me. I know I have relationship problems. I can barely speak to my parents. I can't date a woman for more than a few months, but I do try to be a cognizant friend to you, to Happy, to Sly because we're supposed to understand each other.
Walter has grown a lot since we first met him, and I'm glad that he was able to realize that something was off between him and Toby. Walter was able to admit that he didn't know what it was, and this was such a great character moment for him. His development has been absolutely amazing.
I still don't understand Toby's explanation. He was self destructive because he's never been this happy? Is that the real answer or is Toby struggling with keeping his relationship with Happy a secret from his best friend? I'm leaning towards the latter, but if that's the case, then Happy needs to realize it.
Look, I'm all for Quintis, but I don't want it if it means the destruction of another relationship. It doesn't help that it's hard to understand why Toby is lashing out at Walter because Toby doesn't know how to keep a secret. I need Toby to put into words why he is being this self destructive.
I'm also going to need more from Happy and Toby about why they are keeping things a secret, and maybe a heart to heart about what it means to lie to their friends.
Happy clearly overheard Toby's conversation with Walter, so why isn't she connecting the dots that their romance is causing Toby's life to go downhill in the friendship department?
This Walter and Toby drama and Toby's explanation just isn't sitting right with me. It's not making sense, and I hate that it's causing strife between these two. Walter and Toby's relationship is one that I'd love to see explored more, but not in this way. 
What did you think of "Fractured"? What's your take on all the Toby and Walter drama? Leave your thoughts in a comment below.
Remember you can watch Scorpion online anytime via TV Fanatic.
Allison Nichols is a staff writer for TV Fanatic. Follow her on Twitter and on Google+.