Chicago PD Season 3 Episode 18 Review: Kasual With a K

Stacy Glanzman at . Updated at .
So, will you swipe diagonal on Chicago PD Season 3 Episode 18?
Are you serious about this show, or do you want to keep it casual with NSA? 
I don't know guys, the thought of Roman on a hook-up app...no thank you.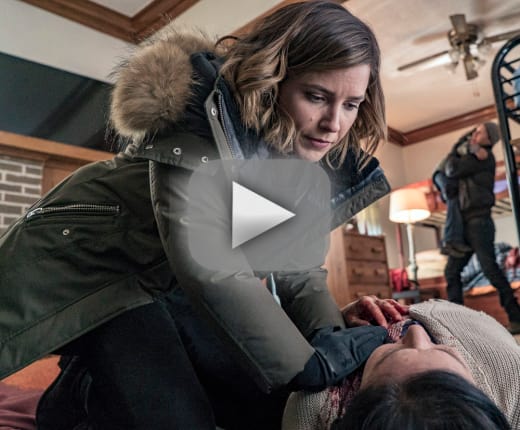 I don't think anyone wants to imagine Roman on a dating app. But I believed him when he insisted to Burgess that he never hooked up on it. I'm just not sure I believe that was by choice on his part. I'm just saying, maybe the reason he never hooked up on it wasn't because he didn't want to...
The writers may have missed a golden opportunity for humor by not making Roman the victim of the catfisher. That would have been hilarious and would have made that whole subplot way more interesting. Also, I really would have loved to see someone, preferably Burgess, trying to explain the meaning of that to Platt. 
Burgess: We want to try something. Go on the app, put in a profile similar to Kosar's. Catfish the catfisher.
Platt: Is that a Dr. Seuss book?
But yeah, instead of a random victim who was taken advantage of and robbed, it would have been so much better if it was Roman.
I really, really hope the writers aren't actually trying to "go there" with Roman and Burgess. I'm going to assume that Burgess is just feeling lonely and that's why she asked him to accompany her to the play. Why she didn't ask Lindsay after the two of them bonded so well, I don't know, but I'll chalk it up to bad judgment. 
We're getting closer to the end of the season, and I would like to see some progress made between Burgess and Ruzek. They don't necessarily have to get back together, but I'd like to see them talk it out. Whatever they are trying to set up between Roman and Burgess...just, please no.
The real case was interesting and gave Lindsay a chance to talk more about her past. We (and Halstead) learned something new. Lindsay has always had a way of connecting with victims, and her past plays a big part in that. 
And since we were apparently robbed of a Lindsay/Halstead centric episode this season, they have to at least give us these little moments between them.
Lindsay: So what? Ainge gets to go back to club life like nothing ever happened?
Voight: No, he doesn't.
We don't normally see the bad guys escape the justice system and when the prosecutor said they didn't have enough evidence, I think we all knew it wasn't going to end there. 
It certainly is not the first time Voight has taken matters into his own hands. I have to admit I was a little worried about what was going to happen in that bar after he cleared the room. 
Thankfully, it didn't need to go any further than serious threats, but it is still disappointing that Ainge gets to leave town and continue his life rather than being locked up where he belongs. 
I wonder if Voight will tell Lindsay exactly how that conversation went down. Seeing and listening to the stories of those battered women really hit home for her. She was understandably upset to find out they didn't have a case. 
At least she was able to facilitate the meeting at the end between Valerie and Jess. That plus drinks with Halstead at Molly's had to help a little. 
So, what did you guys think of "Kasual With a K"? Should Burgess have taken Lindsay, or literally anyone else, to the play? Are we ever going to check back in with Olinsky's daughter? I don't know about you guys, but I'm really starting to wonder. Take a break from the dating apps and hit the comments!
Don't forget, you can watch Chicago PD online any time!
Stacy Glanzman was a staff writer for TV Fanatic. She retired in March, 2019.