Everything we've ever thought about Lucifer is completely wrong.
He's spent the whole season trying to correct people's misperception of him and to great success, but on Lucifer Season 1 Episode 12 all of his efforts basically went to Hell.
And he's not very happy about it.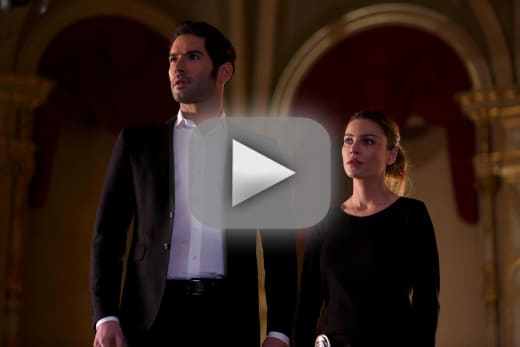 Why should he be? He's not an evil persona who makes people do bad things, he doesn't want people worshipping him and making blood sacrifices, and he certainly doesn't want to be associated with a goat.
Yet, here he is 12 episodes into the season, and he's right back to where he started, all because of a satanic cult, a crazy preacher man, and one insane dude who should have just been left to rot in hell when he died on Lucifer Season 1 Episode 7. 
And the one person he trusted the most, the person he thought was his great earthly friend, turns out to be his Achilles heel, and he can no longer trust her. He's basically lost his mind about it, thinking that somehow Amenadiel has "weaponized" her. 
But, yet, some part of him doesn't believe it. He even admits that to Maze. When Chloe shows up at the bar to seek his help with the Satanic murder, he's almost giddy to see her. He hasn't seen her in three weeks. He misses her. And while he wants to trust her, he still keeps his guard up, because you never know.
But as time progresses, he's starts to believe he's been all wrong about it. That is, until Chloe finds the preacher man dead in the bar, and pulls her gun on him.
Yes, Lucifer is having one horrible, no good, very bad day.
And so is Amenadiel, apparently. Just when Lucifer was about to punish Malcolm for all his craziness, and for making Lucifer's life a living hell, Amenadiel shows up and spoils the fun. Plus, his entrance allowed Malcolm to escape, which isn't going to help Lucifer's cause at all.
Amenadiel is angry about a lot of things. Him failing his father's request to get Lucifer to return to hell is just one. Him falling hard for Maze is another, and probably the biggest one. He hasn't come to terms with what he's feeling for Lucifer's demon yet. But he's definitely feeling something. 
When Lucifer talked about how good Maze was in bed, Amenadiel couldn't help himself.  Is his rage fueled by shame, jealousy, or both? But who better to take it out on than his own brother. After all, that's what brothers are for, right?
There's a parallel between Maze and Amenadiel and between Lucifer and Chloe. But while Amenadiel and Maze's is quite clear (he's an angel, she's a demon), Lucifer and Chloe's is still a bit fuzzy.
Chloe isn't an angel, or at least there's no proof of it. But, she has to be something divine, because only angels can hurt other angels. At least that's what Lucifer claims.
There were times during this hour that I felt Chloe gave hints that she's something more than just human, but they were fleeting.
I'm not sure the mystery of Chloe will ever be revealed. At least not in this season.
Other Thoughts:
Amenadiel's apartment being all white and bright was rather fitting for an angel of heaven.
Trixie exchanging information for cash was adorable. 
Satanists using fake sacrificial knives was sort of goofy. Do they do that in real life?
I don't understand how Malcolm was the one who killed the girl. How did he get in there in the first place?
Kevin Rankin gave an amazing performance this hour. Malcolm's descent into crazy was incredible.
What did you think of "#TeamLucifer"? Share your thoughts in the comments below. Remember, you can watch Lucifer online any time, right here via TV Fanatic!
Lisa Babick is a staff writer for TV Fanatic. Follow her on Twitter.