So. That happened.
I'll be honest. I had a much different scenario in mind when anticipating The Flash Season 2 Episode 18, and my imagination made for better viewing.
Unless I missed something, Barry just gave up everything he has become to save one person over the many (and another as dear) leaving nobody to save the day.
Considering how long we've been waiting for the showdown between Barry and Hunter (formerly Jay), this was a bit of a letdown.
What was cool was getting to know Hunter Zolomon, how he came to be and how he was in two places at one time.
The guy's a serial killer, becoming such after witnessing his father kill his mother at the age of 11. THAT sounds familiar, doesn't it? It just goes to show ya that your circumstances do not fully form the person you will become. There are mitigating factors.
OK, Barry knew his father was innocent, but the world didn't. They were kinda similar. Ridiculously so in the scope of things.
And Hunter? He went back in time and sweet talked one of his "time remnants" into doing evil with him, and even dying for him. He's good at sweet talking, isn't he?
And I'm sorry. I can't call him Jay any longer. His name is Hunter Zoloman. I don't understand The Flash team and their weird desire to continue calling people by their old names even when they know their correct ones. Especially if we end up with Iron Mask being Jay Garrick. I can't have multiples again. Not like Harrison and Harry!
In any event, Zoom is still the big bad we're fighting, and he's still after Barry's speed force. Apparently you cannot keep the darkness down, not with leg irons, anyway.
So Zoom captured Wally as his leverage. In no time at all, Barry decided that Zoom terrorizing two worlds with more speed than any one man should have, especially a convicted serial killer with more than 23 murders under his belt, was quite alright, as long as Wally was safe.
I'm sorry, but I don't understand that move. At all. I can't find one logistical point where that makes any sense. Not a single one.
Especially because Caitlin was taken within seconds, and now there's nobody to save her. Well THAT sure as hell looks like a dumbass plan in hindsight, right???
If I'm missing something, please, share. I'm ready to accept any and all theories proving giving up all that made Barry The Flash a good move.
Watching Cisco struggle with his abilities made sense. Of course he'd worry. He had already seen the very dark version of himself, and while he looked cool, he was mean. Cisco is anything but mean.
The theme of family remained throughout, though, with Barry embracing Wally as family and supporting Cisco, reminding him the thing Reverb didn't have that Cisco does is their created family.
The final point of note comes as a result of Iris wondering about her future with Barry. My advice to her goes like this: If you're pushing so hard to find something between you and Barry, Iris, then there is nothing to be found. Let it go.
You either have a thing for someone or you don't. Just because someone says you're married to someone in the future doesn't mean you must force yourself to dig up feelings that just aren't there. Right now, it seems like that's just what she's doing, and it's awful.
Barry deserves more than that, and Iris does, as well. Caitlin said all the signs point to them being together. Um. What? All of the signs except the pesky ones like attraction and desire.
This felt like an hour of stuff written just because they had to write.
There was very little, outside of the moments between Barry, Joe and Wally early and Barry and Cisco later, that felt intrinsic to the characters. I'm not a fan of bypassing characters' natural motivations to move plot along. It's sloppy.
What did you think of "Versus Zoom"? Did it live up to the title? Was learning about Hunter's past worth the trip down memory lane? Was there any good motivation for Barry to give up his speed force?
Hit the comments, and watch The Flash online. 
Get your first look at The Flash Season 2 Episode 19, "Back to Norman," when Barry is fighting as a human again, below.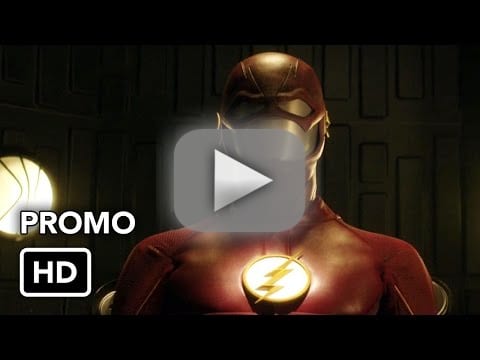 Carissa Pavlica is the managing editor and a staff writer for TV Fanatic. She's a member of the Broadcast Television Journalists Association (BTJA), enjoys mentoring writers, wine, and passionately discussing the nuances of television. Follow her on Twitter and email her here at TV Fanatic.